Opinel Traditional Knife & Sheath Set
Out of stock
Want to be notified when this product is back in stock?
Popular among hunters and fishermen. Made in France.
Secured Payment
|
Free shipping over $100 (excludes bulky products)
View On Mobile Open your camera and Scan the QR code to view on your mobile.
The Opinel knife was designed in 1890 by Joseph Opinel. Its simplicity, robustness and functionality have convinced many generations of users. Passed on from one generation to the next, Opinel is considered a unique and timeless household object. Unchanged for over a century, it's design is one of the most successful of all times. For this reason, Opinel is recognised by the British Victoria and Albert Museum, as being among the 100 best and most recognisable designs. Produced in the heart of the French Alps, the Opinel pocket knives draw simplicity and durability from their mountain roots. Over time, the Opinel folding knife has been adopted in the entire world and is now recognised as a design icon. A mythical object handed down from generation to generation. It remains essential and popular for DIY, camping or picnics in the countryside.
The Opinel N°8 folding knife is a very useful knife, essential to outdoor activities and bivouacs. It is also popular among hunters and fishermen. The N°08 is the most popular knife in the collection. This multi-purpose tool is a real must-have to carry with you day-to-day. Comes with a leather sheath for safe transportation of knife.
Stainless Steel
We use Sandvik 12C27 modified stainless steel. It is anti-corrosive thanks to the addition of chrome and requires no special maintenance. Its carbon content of at least 0.40% gives an excellent cutting edge.
Beechwood Handle
Beech is the most commonly used wood for the manufacture of Opinel handles. From France, our beech is hard, durable and easy to work. With a homogeneous appearance, its light colour varies from yellow to pink. It is characterized by the presence of numerous small dark dashes.
Yatagan Blade
The classic Opinel blade has adopted a Yatagan shape. The Yatagan shape is inspired by a traditional Turkish sabre, the toe up. The blade is ground to an exclusive convex profile that ensures the strength of the blade and allows efficient regrinding.
Safety Ring
Invented by Marcel Opinel in 1955, the Virobloc safety ring is fitted to all folding knives from the N° 06. Cut out of stainless steel, the Virobloc has two sections, one fixed and one sliding. In addition to locking the blade open (safety in use), it is now possible to lock the blade closed (safety in transport).
N°08 – 8.5cm
Handwash only
Made in France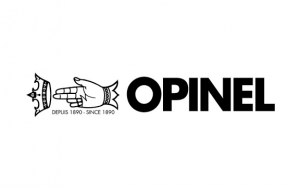 Only logged in customers who have purchased this product may write a review.