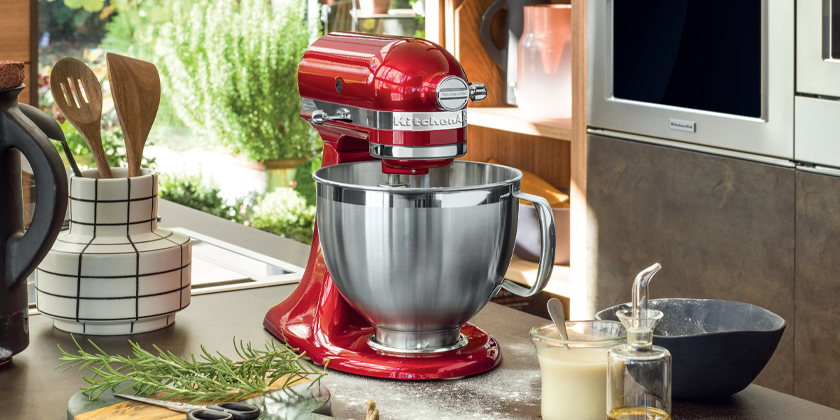 From multifunctional Magimix to commercial KitchenAid Mixer
If you want to buy a cake mixer (also called stand mixer) you're on the right kitchen shop website. At Chef's Complements, we stock kitchen mixers in all colours, ranging from compact KitchenAid mixers and Magimix food processor/cake mixer hybrids through to the commercial KitchenAid Stand Mixer KSMC895 for serious grunt.
Whichever machine you choose, a cake mixer is probably one of the biggest investments when it comes to kitchen appliances. So how do you choose the right stand mixer? What should you consider in order to make the most of your investment? The experienced team at Chef's Complements have put together a handy checklist to help you make the right choice.
How to choose a cake mixer
Attachments. What attachments are available for your stand mixer and do they inspire you? For example, consider the following: Do you make sausages and want to grind your own meat? Do you want to be able to turn the cake mixer into a food processor? Are you up with the play with spiralising, pasta making, ice cream making, juicing etc? KitchenAid, for example, has a lot of attachments.
Design. Does the kitchen mixer you're looking at come with a tilt-head or lift-head design? Tilt-head models require clearance behind them, so check the area where it is going in your kitchen. You get little to no mess because the beater remains above the bowl when tilted. Lift-head models need room above them, so make sure you have enough clearance in the 'up' position if it will be sitting on a countertop below an overhanging cupboard.
The bigger picture. Do you want your cake mixer to match other appliances such as toasters and kettles? This would be easy with a KitchenAid mixer since this brand has a line-up of other small kitchen appliances in the same colour.
Bowls. Does your stand mixer have the option of different bowl sizes or glass bowls (like KitchenAid mixers), allowing you to see inside and to microwave butter etc? The glass bowl also offers measurements and a pouring spout.
Capacity. What do you require? Are you an avid domestic baker or are you baking for a business and need a larger capacity and a commercial machine?
Mixing. Does your new cake mixer feature planetary mixing action for the best mixing results? Planetary mixing action ensures that that the ingredients become fully mixed and that the sides of the bowl are scraped by the beater rather than you having to do it by hand.
Speed options. As a rule of thumb, the more speed options the better because you can perform more tasks from kneading through to whipping cream.
Weight. Heavy kitchen mixers have less tendency to 'walk' when mixing heavy bread dough. So go for a stand mixer that weighs at least 9kg.
Cleaning. It needs to be done – sigh. Whichever stand mixer you get, you'll end up with lots of different pieces to clean. Some attachments are dishwasher-safe, others aren't. You might also have to wash the mixing bowl by hand, depending on the model you go for.
Watts. Our recommendation here is: Don't put too much emphasis on wattage! While it's an indicator of how powerful the motor will be, it actually shows how much power is consumed by the cake mixer, not the power produced by it!
Finally: Do you LOVE it?? Most kitchen mixers will sit out on your bench and not in a cupboard. Therefore, design, colour etc. are a be a big factor.
Viewing 49–60 of 82 results
KitchenAid Ice Cream Maker Attachment

$

249.00

Choose your flavour! Makes 1.8L of soft consistency ice cream. Perfect for making ice cream, sorbet, gelato or frozen desserts.

KitchenAid Ink Watercolour Ceramic Bowl

$

229.00

Accessorise your KitchenAid Tilt-head Stand Mixer with a beautiful white & blue Ceramic Bowl for all of your mixing, whipping and kneading tasks.

KitchenAid Juicer & Sauce Attachment

$

449.00

Attaches directly to your KitchenAid Stand Mixer, this juicer attachment is a slow juicer that first slices then processes soft, hard or leafy fruits and vegetables for maximum nutrient-rich extraction

KitchenAid KSM180 Queen Of Hearts 100 Years

$

1,299.00

Featuring a modern, passion-inspired colour and unique 100-year celebratory features.

KitchenAid KSM7590 White Bowl Lift Stand Mixer

$

1,599.00

Premium performance, exceptional results, legendary KitchenAid quality.

KitchenAid KSMC895 Commercial Bowl Lift Stand Mixer

$

1,999.00

Powerful enough to handle 3+ kgs of dough and quiet enough to sit on your counter.

KitchenAid Mermaid White Lace Ceramic Bowl

$

229.00

Accessorise your KitchenAid Artisan Stand Mixer with a beautiful 4.7L Ceramic Bowl for all of your mixing, whipping and kneading tasks.

KitchenAid Metal Mincer/Grinder Attachment

$

219.00

This set includes a sausage stuffer. Grind your own meat at home, make gourmet burger, unique sausages and even baby food.

KitchenAid Mini Bowl for KSM3311

$

99.99

For use with the KitchenAid Mini Stand Mixer KSM3311. Polished Stainless Steel Bowl with Handle.

KitchenAid Pasta Cutter & Angel Set Attachment

$

299.00

Lasagnette Cutter for thick fettuccine or egg noodles and the Capellini Cutter for spaghetti and angel hair pasta.

KitchenAid Pine & Berries Ceramic Bowl

$

229.00

Accessorise your KitchenAid Tilt-head Stand Mixer with a beautiful 4.7L Pine & Berries Gold Ceramic Bowl for all of your mixing, whipping and kneading tasks.

KitchenAid Platinum KSM170 Stand Mixer Candy Apple Red

$

1,149.00

This 10-speed cake mixer has a shaped glass bowl, a luminous two-coat metallic finish and is powered by a 300W motor.