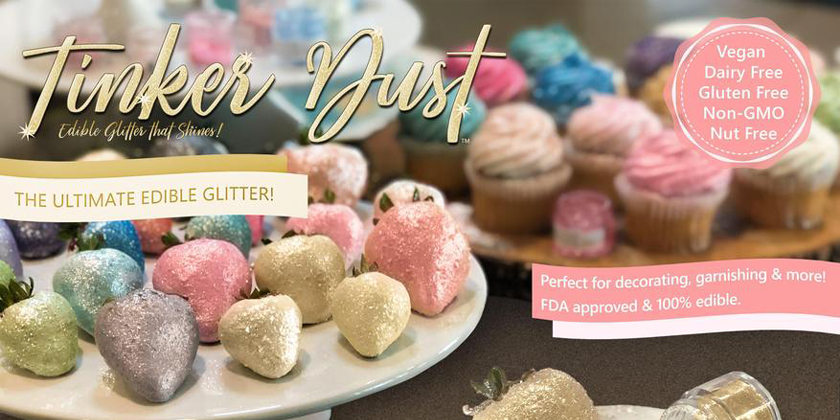 Tinker Dust is the leading edible glitter brand. Tinker Dust is a potent, shiny & beautiful glitter that will add a WOW factor to any food or dessert creation. Tinker Dust uses only FDA approved ingredients and is a 100% edible food-grade glitter. Tinker Dust edible glitter will add shimmer and shine to any of your decorating creations! Perfect for cake & cookie decorating, confectionery crafts, fondant, gum paste & baking!
Developed for the cake decorating industry by a team of incredibly talented food scientists, you can rest assured that it only contains 100% non-toxic, food-grade ingredients that are completely safe to ingest. It also happens to be Halal-approved, vegan-friendly, non-GMO, and even free from dairy and nuts!
So what makes Tinker Dust different from other glitters?
100% edible & food grade; 100% FDA complaint
Tinker Dust is Kosher certified
To use; simply sprinkle or dust directly onto food & desserts
Not used to make edible paint; instead, use Luster Dust for this
Extremely shiny & hyper-pearlescent
Larger particle to reflect light and give brilliance
Amazing glitter & sparkle effect
Viewing all 9 results
Bakell Tinker Dust Edible Glitter 5g Champagne Gold

$

19.99

Bakell Tinker Dust Edible Glitter 5g Classic Red

$

19.99

Bakell Tinker Dust Edible Glitter 5g Deep Blue

$

19.99

Bakell Tinker Dust Edible Glitter 5g Gold

$

19.99

Bakell Tinker Dust Edible Glitter 5g Rose Gold

$

19.99

Bakell Tinker Dust Edible Glitter 5g Silver

$

19.99

Bakell Tinker Dust Edible Glitter 5g Soft Pink

$

19.99

Bakell Tinker Dust Edible Glitter 5g Soft Purple

$

19.99

Bakell Tinker Dust Edible Glitter 5g White Pearl

$

19.99