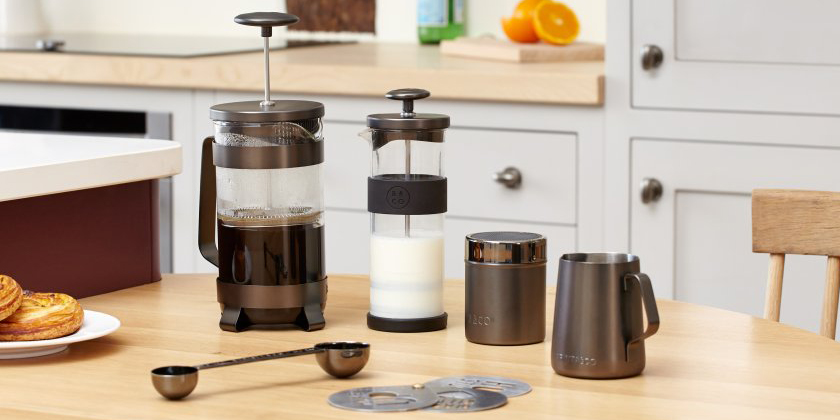 Understated luxury in the world of coffee.
Barista & Co. warmly invite everybody to discover the world of coffee, or rather: great coffee. Their range of coffee presses and accessories is all about passing on both passion and pride in crafting outstanding coffee. Founded in 2013 by James and Louise Gray, a husband-and-wife-team, Barista & Co. is based on the South Coast of England, and they don't only tantalise your taste-buds but also your sense of style. We simply love their beautifully crafted fresh and modern designs and even the packaging!
Here at Chef's Complements, we carry the following:
Barista & Co. French Coffee Presses
These contemporary French press coffee makers create a beautifully smooth, authentic texture. Especially popular is the Barista & Co. OneBrew. If you love pressed coffee but not the hassle that goes with it, the OneBrew is for you: No press; no mess. In this coffee maker, the press has been replaced with a filter which makes everything from prep through to sediment disposal and cleaning simple and easy. All you do is spoon your coffee in the beaker, add hot water, push and leave to brew. This even works with tea too.
Barista & Co. Milk Frothing Jugs & Pitchers
With milk jugs looking that stylish, black coffee drinkers might just change to white! Barista & Co.'s elegant jugs are nice enough to take to the table as a serving jug. Made from high-quality stainless steel, they are the perfect addition to your contemporary collection. Choose from copper, gold, stainless and non-stick black. Or how about The Shorty? Its unique handle-less design improves precision and control when pouring.
Barista & Co. Accessories
We stock everything from coffee scoops, coffee bag clips (which can be used for anything else), shakers, lovely cocoa stencils and replacement glass refills in case someone has a little accident.
Viewing 1–12 of 17 results
Barista & Co Twist Press Reusable Metal Filter

$

15.99

Barista & Co. Steel Cocoa Stencil AND RELAX

$

14.99

Barista & Co. Steel Cocoa Stencil U GOT THIS

$

14.99

Barista & Co. Coffee Plunge Pot Electric Gold 8 Cup

$

89.00

Barista & Co. Core 3 Cup Coffee Press Copper with Copper Scoop Spoon Bundle

$

92.99

Barista & Co. Core Cocoa Shaker Copper

$

39.99

Barista & Co. Core Cocoa Shaker Steel

$

39.99

Barista & Co. Core Milk Jug Copper (2 Sizes)

$

38.00 –

$

49.99

Barista & Co. Core Milk Jug Stainless Steel (2 Sizes)

$

24.99 –

$

49.99

Barista & Co. Corral 4mm Glass Beaker

$

29.99

Barista & Co. Corral Coffee Plunger Stainless Steel 8 Cup

$

125.00

Barista & Co. One Brew Glass Coffee & Tea Infuser

$

57.99