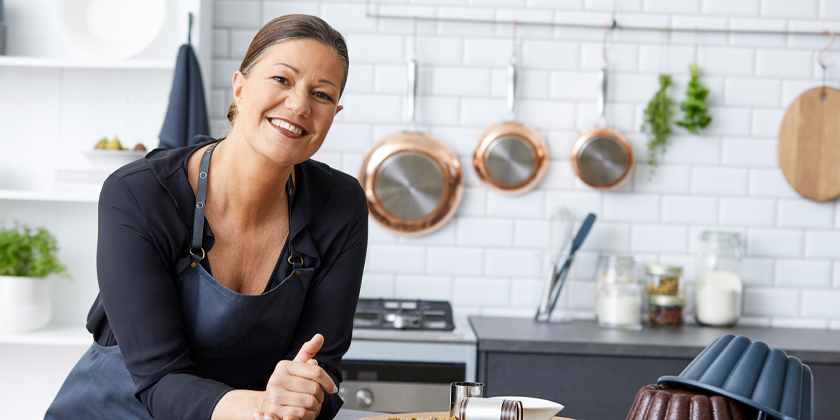 Blomsterbergs' sensuous universe - Designed by top Danish chef Mette Blomsterberg
Just three years after Mette Blomsterberg completed her pastry chef training at Kransekagehuset in Copenhagen, she won a bronze medal at the European Pastry Championships in Lisbon, which confirmed her expertise as a pastry chef. In 1995, Mette Blomsterberg started up her own café and patisserie at Ny Carlsberg Glyptoteket, which consumers got to know as one of the primary locations for her popular TV programmes, called "Det søde liv" (Life is Sweet). Since then, she has repeatedly shown how her outstanding skills and understanding of what consumers require extend far beyond the pastry kitchen.
The Blomsterberg collection brings you professional-quality accessories, baking and cooking products that are adapted to meet the needs of any passionate home cook
The collection offers a capsule range of premium pieces, designed to inspire and enhance the cooking experience, from stunning copper pots to seagrass display baskets.
Viewing all 4 results
Blomsterbergs Copper Frypan 20cm

$

229.00

Blomsterbergs Copper Frypan 28cm

$

349.00

Blomsterbergs Copper Saucepan 1.5L

$

269.00

Blomsterbergs Seagrass Braided Baskets Set of 2

$

74.99