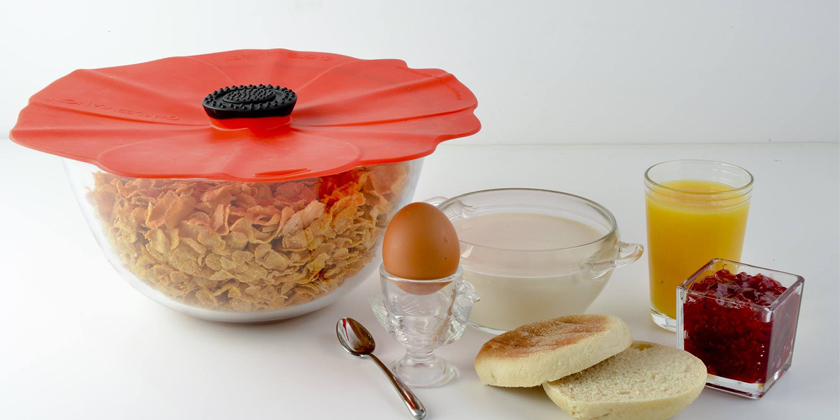 Charles Viancin Silicone – Lids, Utensils & More
Turn plastic-free July into 'plastic-free, full stop'.
Supermarkets are phasing out plastic bags; Chef's Complements do their bit by bringing Charles Viancin silicone lids to Kiwis at sharp prices. From the ever-popular Poppy design through to the latest release, their Kiwi silicone covers – we carry a wide range.
Designed in France, Charles Viancin lids start as bottle stoppers and glass markers to drink covers to keep away bugs, then go into silicone bowl covers, right up to large covers for lasagna/casserole dishes. Matching their slogan 'Inspired by Nature', these stylish lids not only feature natural designs but also actively make a difference by eliminating the need for plastic wrap and foil.
Charles Viancin Lily Pad Lids and other designs are multi-purpose as they can be used on the stovetop, in the oven, fridge and microwave!
Here's a tip: Stock up not only on Charles Viancin silicone covers but also Bee's Wrap reusable lunch wraps to get rid of cling film altogether!
Charles Viancin Silicone Tools & More
While best known for their silicone lids, Charles Viancin also make a range of other products. Top it off with an ingenious apron with built-in silicone pot holders and super-size pocket to hold utensils.
Take a read of our Charles Viancin Blog to learn more about this innovative French brand.
Viewing 1–12 of 21 results
Charles Viancin Citrus Lemon Silicone Lid 23cm

$

32.99

Charles Viancin Citrus Lime Silicone Lid 15cm

$

15.99

Charles Viancin Citrus Pink Grapefruit Silicone Lid 20cm

$

21.99

Charles Viancin Daisy Pink Silicone Lid 20cm

$

19.99

Charles Viancin Daisy White Silicone Lid (2 Sizes)

$

25.99 –

$

30.99

Charles Viancin Daisy White/Pink Silicone Lid 23cm

$

25.99

Charles Viancin Kiwi Mini Scraper

$

11.99

Charles Viancin Kiwi Silicone Lid (2 Sizes)

$

30.99 –

$

37.99

Charles Viancin Kiwi Spatula

$

19.99

Charles Viancin Poppy Bottle Stopper

$

5.99

Charles Viancin Poppy Silicone Drink Covers Set of 2

$

14.99

Charles Viancin Poppy Silicone Lid (5 Sizes)

$

15.99 –

$

36.99