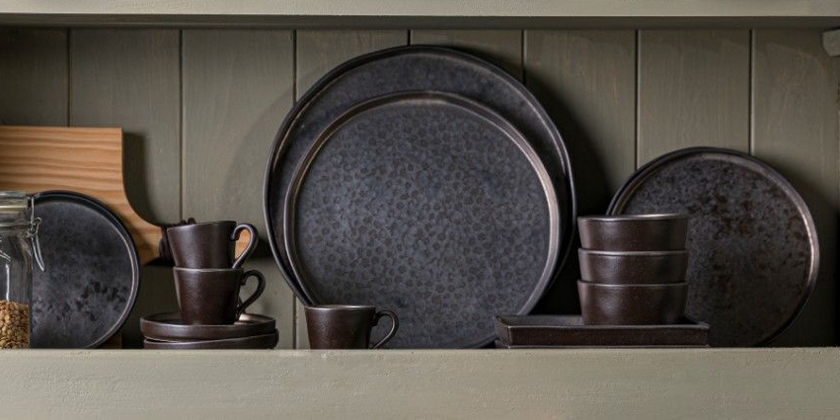 Capturing the unique atmosphere of Costa Nova, a small fishing village that became a well-known holiday spot among Portuguese families, famous for its wooden beach houses painted in colourful stripes, COSTA NOVA embraces the Mediterranean lifestyle to its fullness.
The love of life, family, friends and good food has inspired COSTA NOVA to create fine stoneware collections that combine quality and design with the best in ceramic craftsmanship.
At Chef's Complements, we proudly stock 3 beautiful COSTA NOVA ranges; Pearl, Riveria and Lagoa. The quality and durability of the COSTA NOVA pieces have also drawn the attention of renowned hotels and restaurants around the world. The unique characteristics of stoneware, combined with the refined product design, make their brand a reference in the hospitality industry.
Casafina – Some of the most beautiful textiles in the world are manufactured in Portugal. We have selected some whimsical jacquard patterns to brighten up your kitchen. These wonderful, oversized kitchen towels are 100% high-quality cotton and very absorbent.
Lagoa – A new way of presentation in a special metallic glaze. Stunning walled edge plates for a further point of difference.
Pearl – The Pearl collection was inspired by the richness of 18th and 19th-century European ceramics. The round shapes with large beads are reinvented to create a new classic concept.
Riviera  – Inspired by the shapes and colours of the French and Italian Riviera, Christian Tortu created this captivating collection. Designed by the prestigious French floral designer Christian Tortu, this collection is inspired by the French and Italian Riviera. By mixing shapes and colours of its landscape, Tortu created a captivating collection by recreating the sublime features of this region.
Viewing 1–12 of 21 results
Costa Nova Boutique Matt Black Centrepiece with Wood Stand 32cm

$

149.99

Costa Nova Casafina Dots Tea Towels (2 Colours)

$

15.99

Costa Nova Casafina Original Tea Towels Grey

$

15.99

Costa Nova Lagoa Espresso Cup & Saucer

$

36.99

Costa Nova Lagoa Rectangle Tray 18x12cm

$

27.99

Costa Nova Lagoa Serving Bowl 24cm

$

89.99

Costa Nova Lagoa Soup/Fruit/Cereal Bowl 10cm

$

22.99

Costa Nova Lagoa Soup/Pasta Plate 23cm

$

34.99

Costa Nova Lagoa Teacup & Saucer

$

39.99

Costa Nova Lagoa Walled Plate (3 Sizes)

$

31.99 –

$

64.99

Costa Nova Pearl Centrepiece Cake Stand 34cm White

$

144.99

Costa Nova Riviera Azure Dinner Plate 27cm

$

39.99