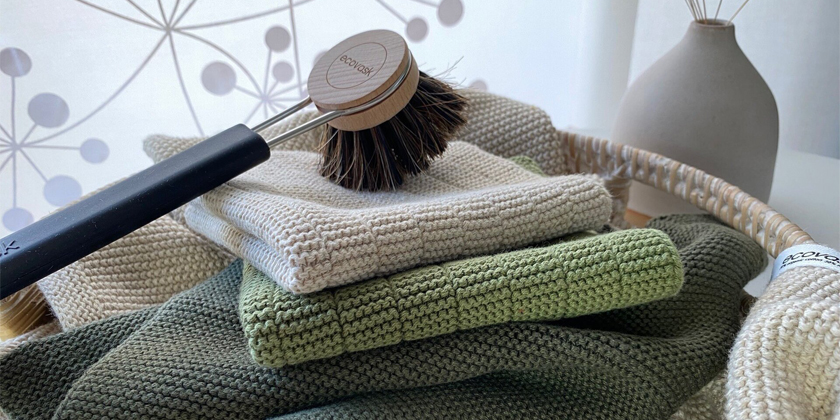 Ecovask is a NZ-based family business that ranges high-quality and eco-friendly household cleaning products, including the BEST DISH CLOTHS EVER.
Cloths
GOTS Certified organic cotton dishcloths that are super functional and beautiful to use while bringing a touch of colour and sustainable style to your kitchen.
Dish Brushes
Stylish, Swedish designed, ergonomic dish brushes are made from certified beechwood and Tampico (flax) or Horsehair bristles, with stainless steel and a soft silicone cover on the handle.
Viewing 1–12 of 19 results
Ecovask 'The Everything Towel' Plus Monochrome 60x40cm

$

29.00

Ecovask 'The Everything Towel' Snow Leopard 60x40cm

$

29.00

Ecovask Cloths 3 Pack Autumn Leaves

$

29.99

Ecovask Cloths 3 Pack Beachy

$

29.99

Ecovask Cloths 3 Pack Blossom

$

29.99

Ecovask Cloths 3 Pack Bombón

$

29.99

Ecovask Cloths 3 Pack Bouquet

$

29.99

Ecovask Cloths 3 Pack Cabana

$

29.99

Ecovask Cloths 3 Pack Man About the House

$

29.99

Ecovask Cloths 3 Pack Pastel

$

29.99

Ecovask Cloths 3 Pack Santa Fe

$

29.99

Ecovask Cloths 3 Pack Shadow

$

29.99