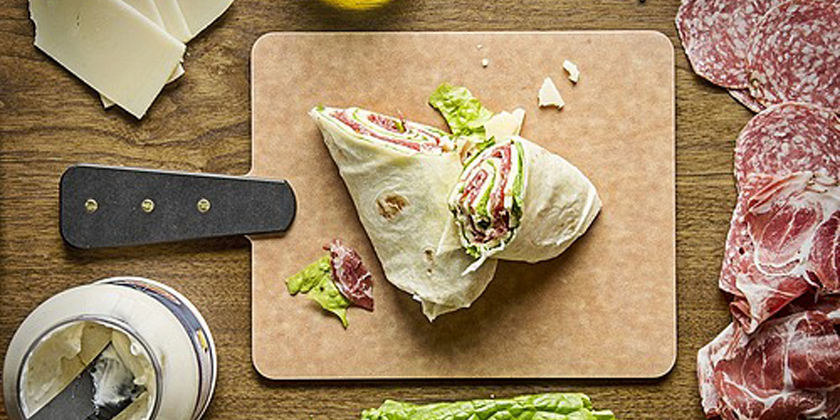 Epicurean cutting surfaces are commercial grade equipment for home gourmets. Made from Forest Stewardship Council certified paper – an eco-friendly fibre that will last for years – the surfaces handle and store easily, and won't dull knives. Unlike traditional wood cutting boards, they will not harbour bacteria and are dishwasher safe.
Professional chefs have preferred such surfaces for more than 40 years, and no well-equipped home kitchen should be without Epicurean.
FSC Certified
Epicurean's Natural, Slate & RC100 materials are all certified by the Forest Stewardship Council.
Knife Friendly
Cutting on Epicurean boards will not dull your knives so you won't have to sharpen as regularly.
Made in the USA
Epicurean cutting boards are exclusively made in the USA.
Heat Resistant
Epicurean cutting boards are heat resistant to 175°C so you can use the surface as a trivet without leaving a blemish.
NSF Certified
Certified by the National Sanitary Foundation (USA), you can be sure that your non-porous Epicurean cutting board will be easy to clean and will not harbour bacteria.
Dishwasher Safe
Unlike wood and bamboo cutting boards, Epicurean boards can be washed in the dishwasher.
Viewing 1–12 of 18 results
Epicurean All in One Series Boards (4 Sizes)

$

59.99 –

$

99.99

Epicurean Board Butter

$

36.99

Epicurean Gourmet Series Board – Natural & Slate (2 Sizes)

$

129.99 –

$

169.99

Epicurean Gourmet Series Board – Slate & Natural (2 Sizes)

$

129.99 –

$

169.99

Epicurean Kitchen Series Board – Natural (4 Sizes)

$

42.99 –

$

119.99

Epicurean Kitchen Series Board – Nutmeg (4 Sizes)

$

42.99 –

$

119.99

Epicurean Kitchen Series Board – Slate (4 Sizes)

$

42.99 –

$

119.99

Epicurean Long Handled Pizza Peel

$

199.00

Epicurean Magnetic Knife Holder (2 Sizes)

$

169.99 –

$

189.99

Epicurean Riveted Handle Handy Board (4 Variations)

$

69.99 –

$

79.99

Epicurean Riveted Pizza Peel

$

112.99

Epicurean Stainless Steel Pizza Cutter

$

129.99