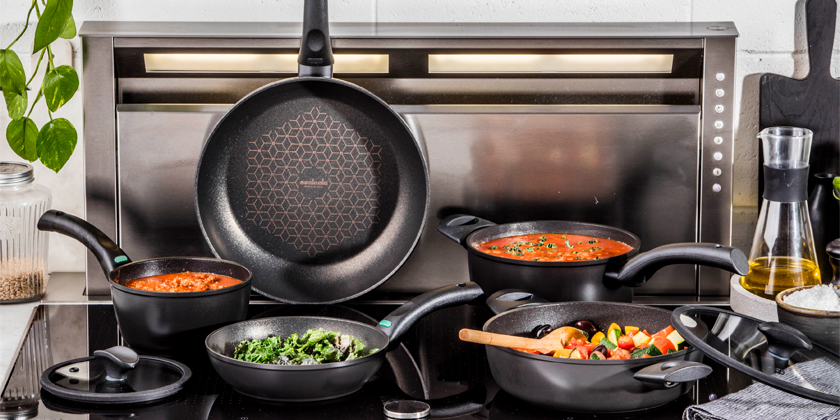 Essteele Per Salute translates into English as Essteele for health. The diamond reinforced non-stick surface allows for fewer oils, fats and grease while cooking, resulting in healthier eating. Essteele Per Salute combines convenience and solution-driven features into beautiful, Italian made cookware. Exceptional heat conductivity across the entire pan surface, thanks to real diamonds, which conduct heat better than copper.
DuraShield technology
Ultra Resistant DuraShield™ interior barrier provides extra resistance to wear & tear where you need it most.
Thermotech™ handle
Skillets handle indicator turns green when it's time to start cooking
DURABLE 7 layer construction for optimal performance
Diamond reinforced nonstick for superior hardness
Italian engineering for a pan that outlasts others
Oven safe to 180°C
NOT Dishwasher Safe
PFOA and nickel free
Lifetime warranty
Viewing 1–12 of 19 results
Essteele Per Salute Non-Stick 3 Piece Cookware Set

26% OFF


Essteele Per Salute Non-Stick 5 Piece Cookware Set

25% OFF


Essteele Per Salute Non-Stick Covered Casserole 28cm

25% OFF


Essteele Per Salute Non-Stick Covered Saute 32cm

25% OFF


Essteele Per Salute Non-Stick Covered Sauteuse 24cm

25% OFF


Essteele Per Salute Non-Stick Covered Sauteuse 28cm

26% OFF


Essteele Per Salute Non-Stick Covered Stirfry 32cm

25% OFF


Essteele Per Salute Non-Stick Crepe Pan 25cm

25% OFF


Essteele Per Salute Non-Stick Grill Pan 28cm

26% OFF


Essteele Per Salute Non-Stick Hot Plate 33x26cm

25% OFF


Essteele Per Salute Non-Stick Multi-Cooker 32cm

26% OFF


Essteele Per Salute Non-Stick Open French Skillet 20cm

25% OFF