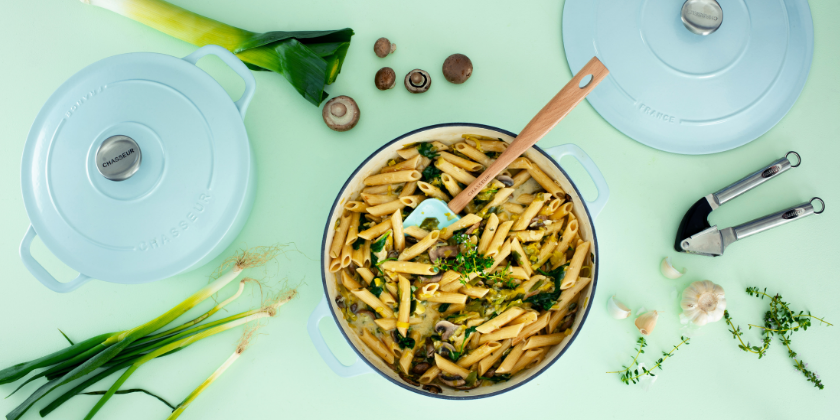 Chasseur Tools & Utensils
Not only do Chasseur have a strong heritage and tradition entwined with quality French-made cookware, they also boast an ergonomic collection of Stainless Steel and Silicone tools and accessories designed to make cooking and baking easy and convenient while being cost-effective.
Stainless Steel
Beautifully crafted using a heavy-gauge 18/10 stainless steel, the Chasseur Stainless Steel range of tools will cater for all your kitchen prep and serving needs. Each utensil and gadget is designed and constructed for durability and longevity, whilst also offering a stylish touch to any kitchen. All tools in this range feature a convenient hanging loop for an additional storage option.
Silicone
Chasseur has produced a range of stylish coloured silicone tools with ergonomic beechwood handles. Whether you're stirring, turning, basting, scraping, serving, Chasseur has a silicone tool for you. The heads are made from high-quality silicone and won't scratch your non-stick or cast iron cookware. This silicone tool range is super easy to clean as well, simply take off the removable silicone head and put it in the dishwasher. Available in Blue, Red, Caviar and Duck Egg to match your Cast Iron and La Cuisson Stoneware.
Viewing 1–12 of 33 results
amalfi Renzo Salad Servers Set of 2

$

74.99

Chasseur Silicone Basting Brush with Wooden Handle Blue

$

11.99

Chasseur Silicone Basting Brush with Wooden Handle Caviar

$

11.99

Chasseur Silicone Basting Brush with Wooden Handle Duck Egg Blue

$

11.99

Chasseur Silicone Basting Brush with Wooden Handle Red

$

11.99

Chasseur Silicone Curved Spatula with Wooden Handle Blue

$

11.99

Chasseur Silicone Curved Spatula with Wooden Handle Caviar

$

11.99

Chasseur Silicone Curved Spatula with Wooden Handle Duck Egg Blue

$

11.99

Chasseur Silicone Curved Spatula with Wooden Handle Red

$

11.99

Chasseur Silicone Large Spatula with Wooden Handle Blue

$

11.99

Chasseur Silicone Large Spatula with Wooden Handle Caviar

$

11.99

Chasseur Silicone Large Spatula with Wooden Handle Duck Egg Blue

$

11.99