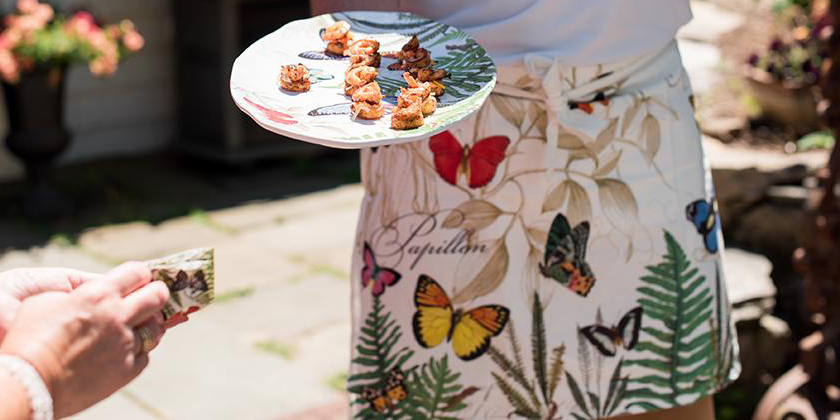 Over 30 years ago, Deborah and Bruce Michel launched Michel Design Works, featuring beautiful paper gifts, such as books, journals, and stationary. From the beginning, we believed that our packaging was just as important as the gift itself. Deborah developed our own unique style, inspired by her lifelong love of French and English art from the 18th and 19th centuries. Her layering of multiple antique designs and her vivid colour transformations lead to us establishing a stunning, often whimsical look that is always recognizable.
At Michel Design Works, our goal is to offer consistently high-quality products and to create distinctive, signature designs that our customers love. We want to make giving gifts as enjoyable and fulfilling as receiving them. We hope you experience that magical Ah-hah! moment when you spot one of our products or designs and realize it's exactly right for a friend or family member, an office mate or new neighbour. And we want the recipients to feel the love and care that went into selecting those gifts—and then find the perfect place for them in their homes.
The elephant logo perfectly encompasses the story of Michel Design Works. While elephants are known for their legendary memories, which tied in perfectly with our keepsake books, they also symbolize stability and wisdom, which has helped us build a successful business. We purposely created an elephant with an upturned trunk as it signifies good luck, something everyone would like to bring into their home.
Viewing 1–12 of 43 results
Michel Design Works Deborah's Garden Apron

$

47.99

Michel Design Works Deborah's Garden Double Oven Glove

$

54.99

Michel Design Works Deborah's Garden Tea Towel

$

22.99

Michel Design Works Eucalyptus & Mint Apron

$

47.99

Michel Design Works Eucalyptus & Mint Double Oven Glove

$

54.99

Michel Design Works Eucalyptus & Mint Tea Towel

$

22.99

Michel Design Works Gardenia Apron

$

47.99

Michel Design Works Gardenia Double Oven Glove

$

54.99

Michel Design Works Honey & Clover Apron

$

47.99

Michel Design Works Honey & Clover Double Oven Glove

$

54.99

Michel Design Works Honey & Clover Tea Towel

$

22.99

Michel Design Works Indigo Apron

$

47.99