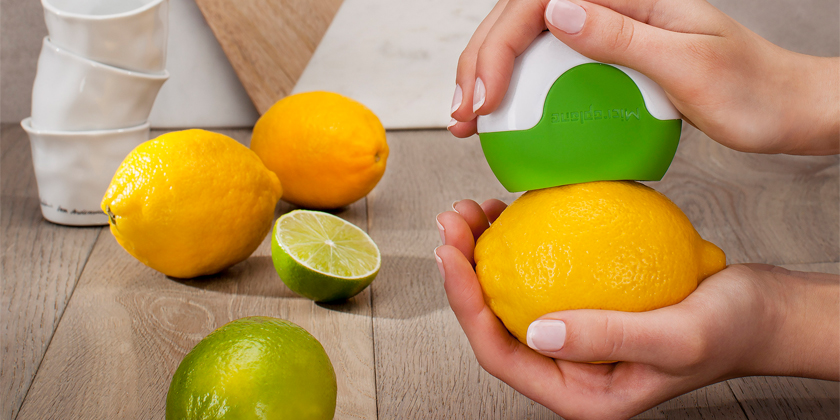 Don't settle for anything less than a Microplane slicer.
Microplane is probably one of the most well-known brands as far as kitchen tools go. Whether you're a foodie, a mum who relies on sneaking grated veggies into kids' pasta dishes, or whether you've simply been delegated with grating cheese for pizza night – you want a Microplane.   
Invented in 1990, the original Microplane started out as a new type of woodworking tool. But they've come a long way. Not even 20 years later most kitchens have a Microplane. Grater, slicer or zester – they now offer a complete range of tools for every type of grating possible. But what's so special about a Microplane slicer/grater? Microplanes feature tiny razor-like edges formed by photo-etching. In this process, holes are dissolved with a chemical to create uber-sharp cutting edges. This means you finely slice your food rather than tearing or shredding it. 
Here at Chef's Complements, we carry an extensive range of Microplane graters and slicers:  
Elite Range – these stylish Microplane slicers come with a cover/catcher which also serves as a measurer 
Gourmet Range – soft-touch handles, but strong and sturdy 
Master Series – these handheld Microplane graters feature a beautifully polished walnut handle with super-efficient cutting edges 
Microplane Plus – we also carry award-winning spice mill, 3-in-1 ginger tool, herb and bar tools, and even cut-resistant gloves 
Viewing 1–12 of 32 results
Microplane 3-in-1 Ginger Tool

$

49.99

Microplane Bowl Grater

$

49.99

Microplane Butter Blade Knife

$

34.99

Microplane Cut Resistant Glove

$

44.99

Microplane EcoGrate Coarse Grater Dover Grey

$

49.99

Microplane EcoGrate Extra Coarse Grater Dover Grey

$

49.99

Microplane EcoGrate Fine Grater Dover Grey

$

49.99

Microplane EcoGrate Zester Dover Grey

$

49.99

Microplane Elite 5-In-1 Box Grater

$

149.00

Microplane Elite Series Coarse Grater

$

59.99

Microplane Elite Series Extra Coarse Grater

$

59.99

Microplane Elite Series Fine Grater

$

59.99