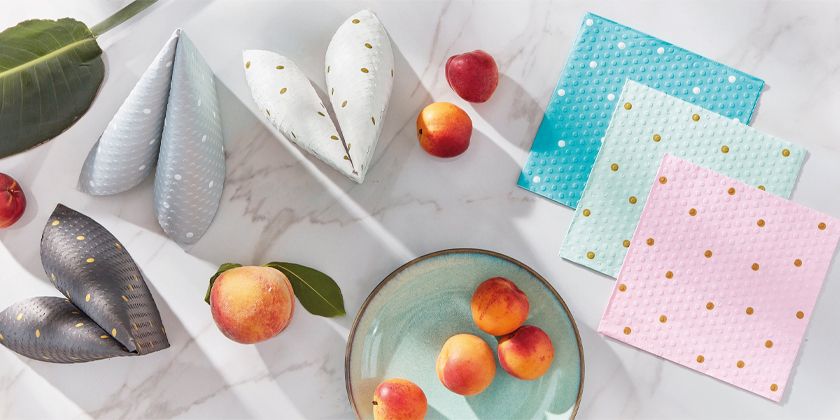 About PAW
Since its founding in 1994, PAW has been among the top companies that specialise in the production of disposable tissue napkins and other products for table decoration. Their goal is to create a unique atmosphere for your table as well as to accentuate the character of the most important occasions by providing various designs to suit every occasion.  Over the years, thanks to its creative passion, competence, pursuit of perfection as well as improvement of print quality, PAW has established a strong position among producers of tissue napkins and has become an increasingly recognizable brand on the Polish market and abroad.
Quality Policy
PAW's napkins are made of bleached chlorine-free tissue (100% cellulose). They're printed according to the FLEXO technology, using state-of-the-art German machines. Each process line operating in PAW can precisely print even 8-colour patterns. For printing, PAW use environmentally-friendly, water-borne paints, highly resistant to abrasion as confirmed by ISEGA certificates.
Forest protection is an important part of the PAW environmental strategy. They are proud of the fact that the company was FSC® certified in 2010 in evidence of its full and conscious commitment to that area. 100% of the PAW output is based on the FSC standard. FSC certification constitutes a reliable link between a responsible production and consumption of forest products, making it possible for consumers and companies to purchase products that meet restrictive standards established by the organization.
Since 2017 the company has been ISO 9001:2015 certified, confirming that the quality management system in the organization meets the highest requirements based on international standards.
Ecolabelling certificate is awarded to those products which meet strict environmental and climate criteria. The award of the certificate offers consumers a real guarantee that the resources used are of the highest quality and are in line with the strictest environmental protection standards.
Viewing 1–12 of 30 results
PAW Decor Lunch Napkins 33cm Aroma Coffee Pack of 20

$

7.99

PAW Decor Lunch Napkins 33cm BBQ Party Pack of 20

$

7.99

PAW Decor Lunch Napkins 33cm Blue Cupcake It's A Boy Pack of 20

$

7.99

PAW Decor Lunch Napkins 33cm Delicate Flowers Pack of 20

$

7.99

PAW Decor Lunch Napkins 33cm Dots Blue Pack of 20

$

7.99

PAW Decor Lunch Napkins 33cm Dots Cyclamen Pack of 20

$

7.99

PAW Decor Lunch Napkins 33cm Dots Red Pack of 20

$

7.99

PAW Decor Lunch Napkins 33cm Folk Stamp Pack of 20

$

7.99

PAW Decor Lunch Napkins 33cm Hawaiian Flowers Pack of 20

$

7.99

PAW Decor Lunch Napkins 33cm Inspiration Classic Gold Pack of 20

$

7.99

PAW Decor Lunch Napkins 33cm Inspiration Dots Black Pack of 20

$

7.99

PAW Decor Lunch Napkins 33cm Inspiration Dots Mint Pack of 20

$

7.99