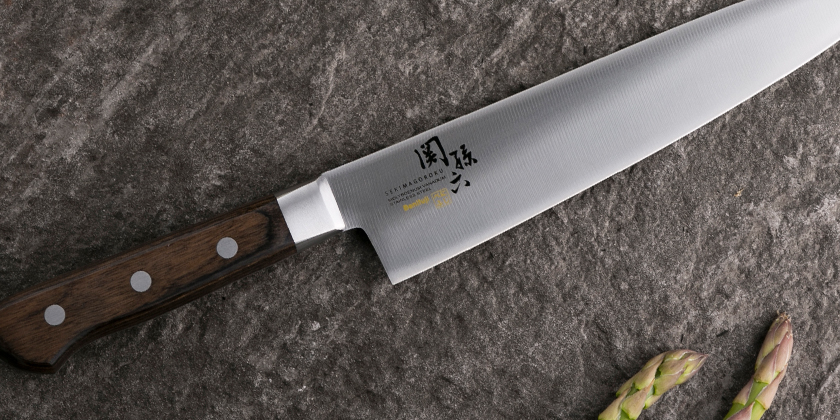 Kai Seki Magoroku Benifuji
Kai Benifuji is part of the Seki Magoroku range of knives. Many celebrated swords were born in Seki area and in the Kamakura era. The master craftsman "Magoroku of Seki" had the original technique producing beautiful swords which were high quality and had outstanding sharpness.
Made in Japan, these knives have a full tang which makes them robust and eases hand fatigue. Constructed from AUS-8A stainless steel, each blade is subjected to a 3 chamfering processes. This special grinding process reduces the friction against food and blade and gives you a knife with an extremely sharp cutting edge.
Like others in the Kai family, the handle is made from hard-wearing PakkaWood which enables durability and comfort, as well as making it an attractive looking knife to have in your collection.
Blade Material
Full tang, Japanese AUS-8A blade steel
Cutting Angle
Double bevelled 16° cutting angle each side.
Hardness
60 HRC.
Handle Material
PakkaWood (premium, resin-impregnated hardwood)
Viewing all 5 results
Kai Benifuji Chefs Knife 18cm

11% OFF


Kai Benifuji Chefs Knife 21cm

11% OFF


Kai Benifuji Petty Knife 12cm

10% OFF


Kai Benifuji Santoku Granton 16.5cm

11% OFF


Kai Benifuji Utility Knife 15cm

11% OFF