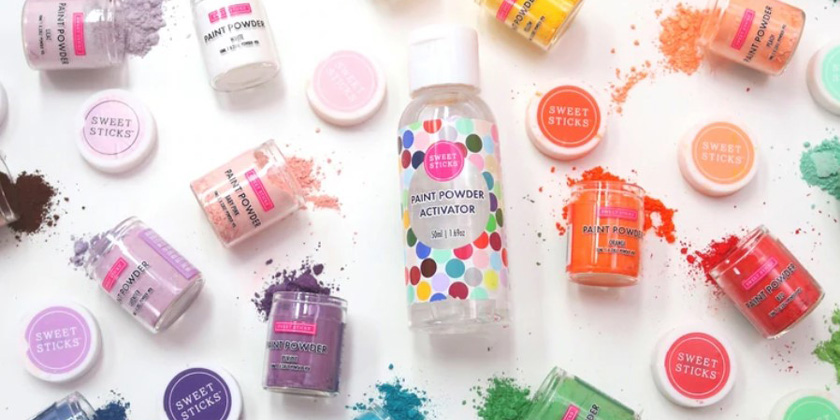 DUST IT – PAINT IT – CREATE IT
Paint Powder by Sweet Sticks is a revolutionary range of coloured dust that can ultimately be turned into a beautiful paint using the Paint Powder Activator. With a unique blend of 100% edible ingredients, it is super safe to add to your delicious cakes, cookies and CHOCOLATE! That's right, they paint on chocolate. Sweet Sticks Paint Powders were formulated to be ideal for oil-based products and are able to paint on most non-porous surfaces.
Sweet Sticks Paint Powders are so versatile and can accommodate many different styles of cake decorating. You can ultimately choose your paint consistency or dust it. A little goes a long way with Sweet Sticks Paint Powders, you only need 1/8 of a teaspoon of Paint Powders and Paint Powder Activator to cover a whole 250g Block of Chocolate. This means you could cover 24 Blocks of Chocolate with 1 jar of Sweet Sticks Paint Powder.
Paint powders can be used on:
Chocolate
Swiss Meringue buttercream
Royal icing
Buttercream
Ganache
Fondant
Sugar cookie
Gum paste
Viewing 1–12 of 30 results
Sweet Sticks Paint Powder Baby Pink 10ml

$

8.99

Sweet Sticks Paint Powder Black 10ml

$

8.99

Sweet Sticks Paint Powder Blue 10ml

$

8.99

Sweet Sticks Paint Powder Bright Melon Green 10ml

$

8.99

Sweet Sticks Paint Powder Brown 10ml

$

8.99

Sweet Sticks Paint Powder Dark Melon Green 10ml

$

8.99

Sweet Sticks Paint Powder Deep Pink 10ml

$

8.99

Sweet Sticks Paint Powder Green 10ml

$

8.99

Sweet Sticks Paint Powder Grey 10ml

$

8.99

Sweet Sticks Paint Powder Lavender 10ml

$

8.99

Sweet Sticks Paint Powder Leaf Green 10ml

$

8.99

Sweet Sticks Paint Powder Lilac 10ml

$

8.99