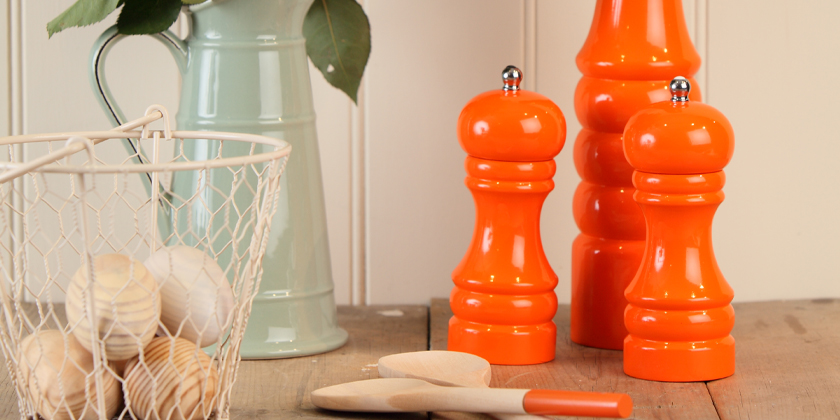 Classic Mills
T&G's Classic mills are available in a choice of different materials and are designed to reflect all tastes. All T&G Classic mills have fully adjustable ceramic mechanisms. No metal grinders to corrode, no plastic grinders to wear out. All T&G Classic mills come with a lifetime mechanism guarantee.
CrushGrind Mills
T&G specialises in the design and manufacture of salt and pepper mills and leads the market in terms of function, quality and design, offering a combination of traditional and more innovative design.
T&G's award-winning CrushGrind® mechanism is the ideal choice as it allows you to effortlessly grind not only salt and pepper but also, using the same grinder whole dried herbs and spices. CrushGrind® Mills all have the CrushGrind® ceramic mechanism which achieves a finer grind than conventional metal mechanisms. Furthermore, because this type of ceramic is an extremely tough material it guarantees excellent ongoing performance for many years. The CrushGrind® mechanism has its own unique grinding system which requires no central spindle and delivers excellent performance grind after grind. CrushGrind® is excellent for grinding dried herbs and spices which quickly lose both aroma and flavour once they are ground, because the essential oils very quickly evaporate. Buying coarsely ground dried seasonings and milling them when required releases the essential oils, restoring smell and taste to the level of freshly picked ones. CrushGrind® is easy to use, simple to fill and regulated by a simple rotating wheel at the base of the mill to achieve a fine or coarse grind.
Viewing 1–12 of 30 results
T&G Classic Capstan Green Gloss Mill Set 15cm

$

105.99

T&G Classic Capstan Grey Mill Set 15cm

$

105.99

T&G Classic Capstan Grey Pepper Mill 40.5cm

$

114.99

T&G Classic Capstan Orange Gloss Mill Set 15cm

$

105.99

T&G Classic Capstan Orange Gloss Pepper Mill 40.5cm

$

114.99

T&G Classic Capstan Red Gloss Pepper Mill 21.5cm

$

59.99

T&G Classic Capstan Red Gloss Pepper Mill 40.5cm

$

114.99

T&G Classic Capstan Red Gloss Salt Mill 21.5cm

$

59.99

T&G Classic Capstan Vintage Green Mill Set 15cm

$

105.99

T&G Classic Capstan Vintage Green Pepper Mill 40.5cm

$

114.99

T&G Classic Capstan White Gloss Mill Set 15cm

$

105.99

T&G Classic Capstan White Gloss Pepper Mill 40.5cm

$

114.99