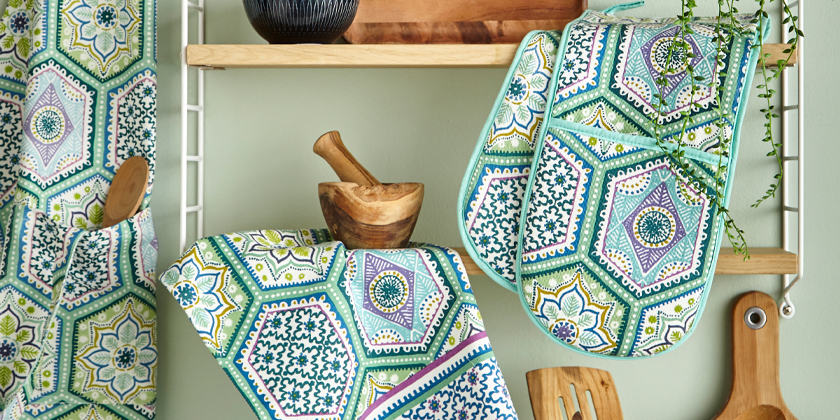 Ulster Weavers Home Fashions prides itself on the production of high-quality linen and textile products. Every product is designed in Northern Ireland and the company still relies on the knowledge 135 years in the production of textiles. Today, Ulster Weavers Home Fashions is a family business with a worldwide reach. Their products are sold, not only in the UK and Ireland but throughout the world.
For the last 800 years, British Monarchs have bestowed the royal warrant on companies providing goods and services to members of the royal family for more than five years. The royal warrant is a mark of excellence and is highly regarded both within the UK and abroad.
As evidence of their commitment to quality, Ulster Weavers Home Fashions has held the royal warrant as suppliers of kitchen textiles to Queen Elizabeth II since 1995. To meet the demands of a 21st-century market, production takes place in various sites throughout the world, but the process and the quality of the end product are still controlled in Northern Ireland.
Viewing 1–12 of 95 results
Ulster Weavers 1880 Grey Linen Oven Glove

$

39.99

Ulster Weavers 1880 Indigo Linen Oven Glove

$

39.99

Ulster Weavers Aquarium Cotton Apron

$

39.99

Ulster Weavers Aquarium Cotton Tea Towel

$

17.99

Ulster Weavers Aquarium Double Oven Glove

$

29.99

Ulster Weavers Arts & Crafts Cotton Tea Towel

$

17.99

Ulster Weavers Aviary Cotton Tea Towel

$

17.99

Ulster Weavers Baa Baa Sheep Cotton Tea Towel

$

17.99

Ulster Weavers Baking Cotton Tea Towel

$

17.99

Ulster Weavers Baking Oil Cloth Apron

$

39.99

Ulster Weavers Beekeeper Cotton Apron

$

39.99

Ulster Weavers Beekeeper Cotton Tea Towel

$

17.99