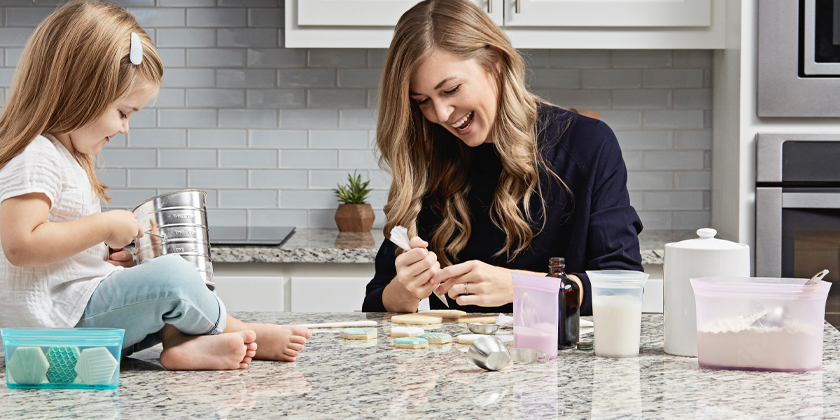 Imagine a 100% platinum silicone zip-shut container that is food safe, fridge-freezer-&-microwave safe, dishwasher safe and completely free of BPA, lead, PVC, and phthalates. It sounds like A LOT to imagine, but thankfully you don't have too. Introducing Zip Top. Zip Top are endlessly useable silicone containers and proudly put single-use plastic bags and containers in the history books. This single-piece construction with no glue won't rip or tear and their patented design stands up, stays open and zips shut, unlike anything that exists in the world!
Better for you
Made with 100% platinum silicone, Zip Top's won't leach harmful chemicals like plastics can. Zip Top containers are completely free of BPA, lead, PVC, and phthalates. If you like leached chemicals in your food, this product is not for you.
Better for the planet
Zip Top was designed with the environment in mind. One Zip Top can replace 5000+ disposable bags. The average family can use up to 2000 plastic bags a year. That's a lot of rubbish! Save yourself and save the planet. The fish will thank you for it.
So SOO Versatile
Use Zip Top containers for food prep, cooking, lunches, leftovers, snacks on the go, travel, food storage, crafting and just about anything you can imagine. Get weird with it. We won't judge!
Benefits of Zip Top
No more searching throughout every cupboard and draw for lids, Zip Top zips shut
Stands up on its own for easy filling and storage
Stackable within each other
The patented design is constructed from a single piece of silicone, it won't tear, rip or harbour food in grooves. It also doesn't include glue in construction.
Large range of designs, shapes and colours!
FDA approved, Award-Winning, Woman-designed – Born in late 2018
Completely free of BPA, lead, PVC, and phthalates
Fridge, Freezer & Microwave safe
Food Safe
Viewing 1–12 of 19 results
Zip Top Breast Milk Bag Set

$

39.99

Zip Top Breast Milk Bag Set & Freezer Tray

$

124.99

Zip Top Platinum Silicone Baby Snack Bear

$

23.99

Zip Top Platinum Silicone Baby Snack Cat

$

23.99

Zip Top Platinum Silicone Baby Snack Dog

$

23.99

Zip Top Platinum Silicone Baby Snack Pig

$

23.99

Zip Top Platinum Silicone Baby Snack Set

$

89.99

Zip Top Platinum Silicone Cup Set (4 Colours)

$

89.99

Zip Top Platinum Silicone Dish Set (4 Colours)

$

119.99

Zip Top Platinum Silicone Large Cup (4 Colours)

$

37.99

Zip Top Platinum Silicone Large Dish (4 Colours)

$

49.99

Zip Top Platinum Silicone Medium Cup (4 Colours)

$

31.99