The classic version of the original Börner V-slicers, this versatile V3 TrendLine Slicer quickly and easily cuts and slices your fruits and vegetables. The V3 Trendline Slicer has three different inserts for thin or thicker slices, 3.5 mm or 7 mm cubes, or thick strips for french fries. The included Food Safety Holder protects your fingers from the sharp Borner blades.
Fast, safe, and healthy!
Their V3 Trendline Slicer is very popular worldwide because of its durability, first-class German craftsmanship, and is a great value for people everywhere. The patented Börner V-knife design achieves optimal cutting results with very little effort. To clean, simply rinse under running water.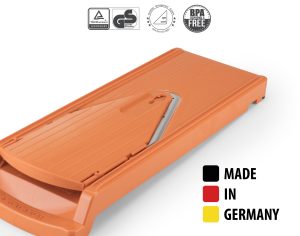 Includes:
V3 Slicer with slice insert: Thanks to its sharp blades, the slicer is a reliable kitchen helper that you no longer want to miss. With the help of the insert, you can cut both thick and thin slices within a very short time and prepare delicious dishes as quickly as possible.
Food Safety Holder: Borner is distinguished above all by its ultra-sharp blades, which is why it is necessary to take the fruit holder for processing. With that, you protect your fingers and process the fruit with minimal waste.
3.5mm Blade Insert: You are a big fan of julienne strips that you can use to enhance healthy raw food plates? The 3.5mm blade insert is ideal for making fine strips of fruit and vegetables.
7.0mm Blade Insert: Homemade french fries become an absolute treat with the 7mm blade insert. Simply insert and you will quickly get rough stripes or even cubes from the vegetables of your choice.
Multibox: If the slicer should not be used, you can stow it in the practical multi-box. There you can put the sharp blades too, which thus pose no danger. Hence the slicer takes up little space and is optimally stowed.