Sale!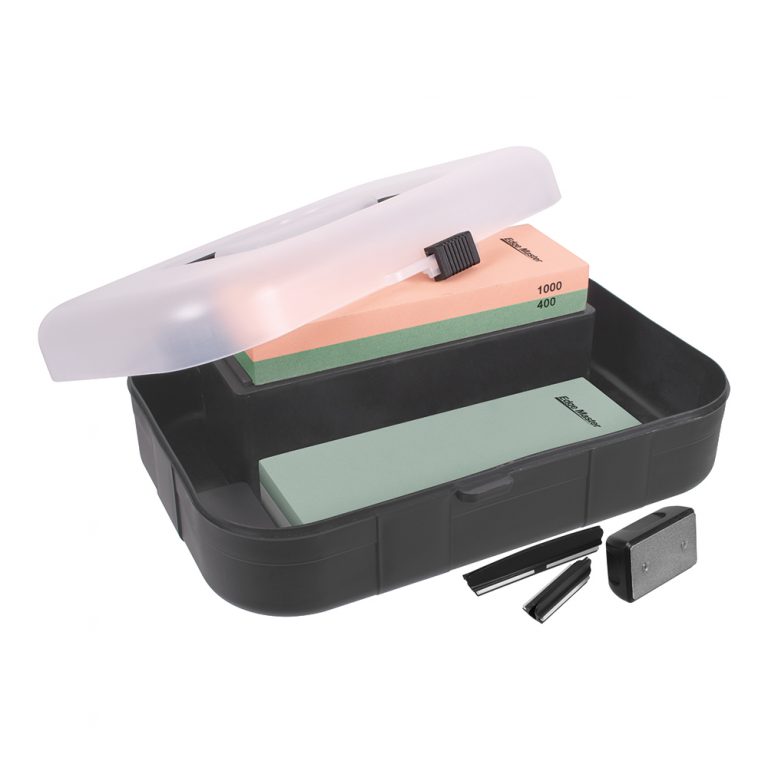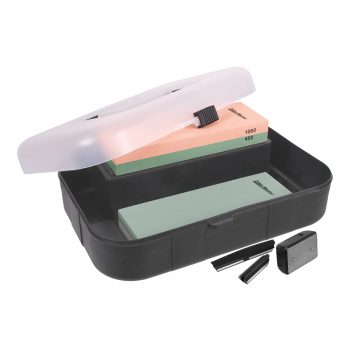 Edge Master Ultimate Whetstone Sharpening Kit – 6 Piece Set
The ultimate set with everything you'll need to transform your knife from blunt to sharp! Includes Coarse 400 Grit, Medium 1000 Grit, Fine 3000 Grit & Extra fine 8000 Grit
Secured Payment
|
Free shipping over $100 (excludes bulky products)
View On Mobile Open your camera and Scan the QR code to view on your mobile.
The ultimate set with everything you'll need to transform your knife from blunt to sharp!
Included in this set
1x Carry case with sharpening station and water bath
1x Corundum Whetstone 400/1000 Grit
1x Corundum Whetstone 300/8000 Grit
1x Large knife sharpening angle guide
1x Small knife sharpening angle guide
1x Diamond stone flattener
Whetstone dimensions: 21 x 7 x 2.8cm
Stone Grits & Use Choose one of the available grits, depending on the condition of your knife
Coarse 400 Grit: Used to repair badly damaged or extremely blunt knives or tools
Medium 1000 Grit: This is the main sharpening grit and is used to re-sharpen and remove burrs
Fine 3000 Grit: Used for fine sharpening and removal of burrs – smoothens the knife-edge
Extra fine 8000 Grit: Used for polishing the knife-edge, can remove most burrs
Use Instructions
Submerge the whetstone in water for approximately 5 minutes or until bubbles have stopped. This process must always be repeated before sharpening.
Place the whetstone on the non-slip stone station base. Before commencing with the sharpening process, use the flattening stone provided to ensure the whetstone is completely flat – this is very important! Always ensure to keep the stone wet while sharpening and do not remove the powder build-up as this helps sharpen the knife.
Using the guide rails included, move the blade using a back and forth motion on a 15°-30° angle, ensuring to keep even pressure on the blade.
Once a burr is reached on the edge of the entire blade, change sides and repeat the process 4/5 times each side until the burr is completely removed and the blade is razor-sharp.
After use, clean the surface of the whetstone and leave it to dry before storing it in the stone station.

Do not use the whetstone to sharpen serrated blades or scissors.
To avoid knife damage, sharpen by employing light pressure.
Use the entire surface of the stone so as to maintain evenness during sharpening
Avoid letting the whetstone fall or other similar impacts. Being associated to the use of knives, keep the whetstone out of the reach of children.
Only logged in customers who have purchased this product may write a review.