Global G-45 Ceramic Sharpener 24cm
This Ceramic Sharpener allows you to sharpen your knife using the western method of sharpening and gives a finer edge if used regularly.
Secured Payment
|
Free shipping over $100 (excludes bulky products)
View On Mobile Open your camera and Scan the QR code to view on your mobile.
Stone sharpening is the best way to sharpen any knives, not just Global knives. In between stone sharpening's you can use Global's 24cm ceramic sharpening rod. These sharpeners are used in the same way that traditional steels are used to sharpen other knives and, as they are made from one of the hardest materials known to man, are suitable for sharpening all good quality knives.
A diamond rod is harder than the ceramic rod and will bring back an edge quicker. A diamond rod also will not break if it is hit or dropped like the ceramic rod. However, the ceramic rod will give a finer edge if used regularly and replacements may be purchased if you break your ceramic rod. This Ceramic Sharpener allows you to sharpen your knife using the western method of sharpening. Although we recommend using a whetstone or a pull-through sharpener. If you're a seasoned chef that has been using sharpening poles than this would be a better alternative to other brands of sharpening steels and would give you a more superior edge. This G-45 has been specifically designed for meat knives.
Made in Japan
24cm length
Replacement rods are available
This small size steel fits in the Global Ship Shape style knife blocks
Hand wash only
Check out Global's Care Guide for instructions on sharpening, storing, cleaning and washing Global Knives.
NOTE: Do not use traditional steels made from other materials as they are likely to damage Global knives.
NOTE: The ceramic steel through use can discolour – this is a residue that has built up in the pores of the ceramic. Use warm soapy water and if necessary a scourer to help keep your ceramic steel clean.
From knife construction and testing to the story of Global, all the way to the comparisons between each series of knives, visit our in-depth Guide to Global to learn everything you need to know before buying!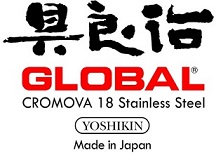 Only logged in customers who have purchased this product may write a review.