Emile Henry cookware has been produced in Burgundy, France, for more than 170 years. To this day, this family-owned-and-operated company produce their beautiful Emile Henry ceramics from non-treated, high-fired Burgundy clay, with each piece signed by the worker who made it! In a world of chemicals and highly processed foods, Emile Henry ceramics naturally enhance flavours and aromas: from the base material through to the glaze, everything in their production is 100% natural, a fact which is mirrored by their earthy-inspired colour palette.
Discover the pleasure of making yourself three crisp and fragrant crispy baguettes. Simple to use, simply place the dough pieces in the notches and put the baking pan in the oven. Easy to use, the holes in the base and lid of the baguette baker help the dough to rise and create a dry, crispy crust. Thanks to the ribs, the dough will not stick, and the lid creates the right level of humidity for baking delicious baguettes. The holes in the lid help to create a thin, crispy crust so special to French baguettes.
Made in France
HR Ceramic® (High Resistance), for use in the oven up to 270°C (520°F).
The baker is dishwasher safe and keeps a low profile for compact storage with the lid stacked upside down inside the base.
Guaranteed 10 years
3.09L Capacity
39 x 24cm
Care Instructions:
Allow to cool down completely before cleaning. Do not pour cold water onto a hot dish. For stubborn residue, soak in hot water and white vinegar before placing in the dishwasher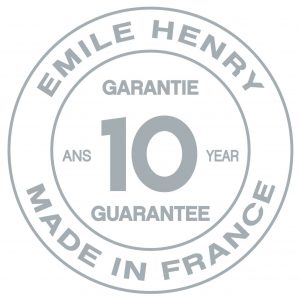 Read up more about Emile Henry, their history, how these pieces are made and how to use and look after your products in our 'All About Emile Henry' blog.