Lunch Punch Sandwich Cutter Lion Head & Paw Print Set of 2
4 in stock
Make lunch a delight with this kid sandwich cutter in the shapes of Lion Head and Paw Print. Make lunch like a legend!
Secured Payment
|
Free shipping over $100 (excludes bulky products)
View On Mobile Open your camera and Scan the QR code to view on your mobile.
We ain't lion when we say kids are going to love this roarsome sandwich cutter set!
Make sandwiches the mane event with our fearsome lion or get the paw-ty started with his large paw print. Take a walk on the wild side!
The Lunch Punch sandwich cutters are taller than a cookie cutter to keep your sandwich light and fluffy and are specially designed to leave only the crust – minimising waste. As every parent knows, it's a daily challenge to make a healthy and appealing lunch that kids will eat. Sandwiches are a mainstay in children's diets, but they're so boring and kids don't like the crust. A fun lunch that kids will love, with minimum waste. The taller Lunch Punch sandwich cutters, make it easy to cut through two pieces of bread and your spread while still keeping sandwiches light and fluffy.
We recommend using fresh bread, it works best! The impressions won't be quite as sharp in a grainy bread, so a smooth bread (such as white, wholemeal or rye) gives the best results. You can use any fillings you like! The  Lunch Punch Cutters do work best with less filling, if you want to add more fillings such as lettuce, salad and meats we recommend cutting your bread before adding fillings. With spreads, again less is more – it can be best to cut your bread before adding large amounts of spreads. For example, jam will ooze out the sides when pressed down.
For the perfect Lunch Punch Sandwich PUNCH down firmly with both hands, FLIP your cutter over and PRESS in for finer details, PEEL the crusts away from the sandwich, POP your sandwich out using fingers or a bread knife, ADMIRE!!
Features:
Includes:  1 x Large Lion Head sandwich cutter, 1 x  Large paw print sandwich cutter
Exact cutter dimensions are 9cm X 9.5cm X 3cm deep
Dishwasher safe
BPA FREE
Phthalate FREE
PVC FREE
Lead-FREE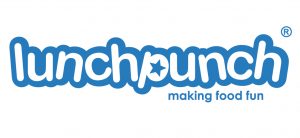 Food has never been this fun!
Using the Lunch Punch Sandwich cutters couldn't be easier – simply punch, press, peel and POP for super fun lunch creations. Try them on other yummy foods like pancakes, fairy bread, slices of watermelon and fun craft activities like play-doh, stencilling and sand play.
Only logged in customers who have purchased this product may write a review.
You May Also Like
B.Box Lunchbox Strawberry Shake 2L

$

39.99

B.Box Silicone Snack Cup Forest

$

16.99

Bento Box Food Cup Buckets

$

7.99

Food Cutter Set Animal Costumes

$

12.99

Food Cutter Set Bento Foods

$

14.99

Goodbyn Dipper Set (5 Colours) – Blue

$

9.99

Goodbyn Neon Bynto 3 in 1 Lunch Box with Dipper Set (6 Colours)

$

30.99

Goodbyn Neon Hero 5 in 1 Lunch Box (6 Colours)

$

33.99

Goodbyn Portions On The Go 4 in 1 Lunch Box (5 Colours)

$

23.99

Goodbyn Snacks 2 in 1 Lunch Box (5 Colours)

$

10.99

Lunch Punch Dinosaur Cutters Set of 2

$

19.99

Lunch Punch Farm Cutters Set of 2

$

19.99

Lunch Punch Puzzles Cutters Set of 2

$

19.99

Lunch Punch Sandwishes Cutters Set of 4

$

19.99

Lunch Punch Shark Cutters Set of 2

$

19.99

Lunch Punch Silicone Cups Pink Set of 3

$

10.99

Lunch Punch Silicone Cups Yellow Set of 3

$

10.99

Lunch Punch Space Cutters Set of 2

$

19.99

Lunch Punch Sporty Cutters Set of 4

$

19.99

Lunch Punch Superhero Cutters Set of 2

$

19.99
You May Also Need
B.Box Lunchbox Ocean Breeze 2L

$

39.99

Goodbyn Spork (4 Colours)

$

4.99