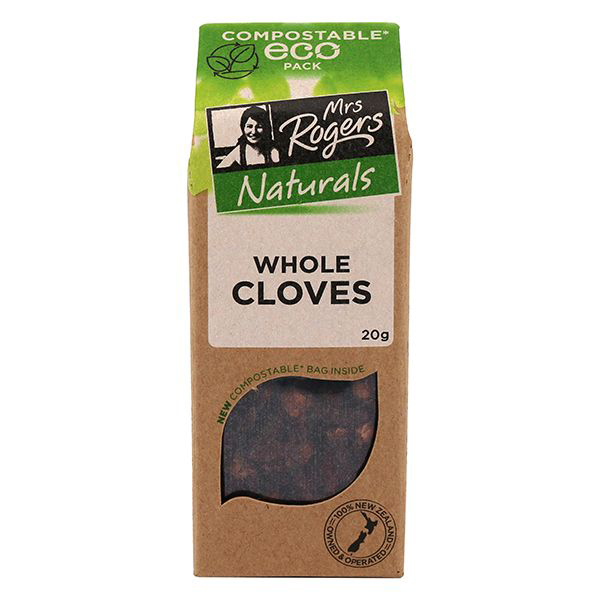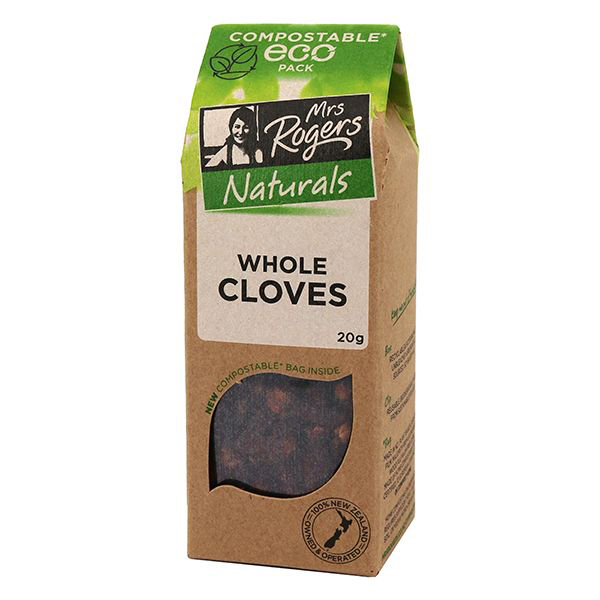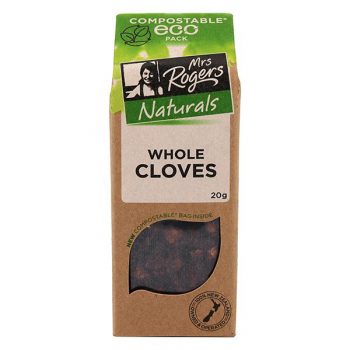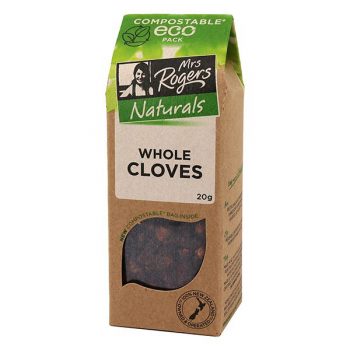 Mrs Rogers Naturals Whole Cloves 20g
Use for sweets, fruit, pork, salads, or as garnish. 20g
Secured Payment
|
Free shipping over $100 (excludes bulky products)
View On Mobile Open your camera and Scan the QR code to view on your mobile.
Cloves can be used whole or ground in a variety of cooking styles.
Suggested Uses
Use cloves to stud your Christmas Glazed Ham.
Add flavour to Asian and Middle Eastern curries and meat dishes.
Cloves combine well with onions and garlic in sauces and marinades.
Combine with Cumin and Cinnamon for a Mexican or Indian flavour.
Use for sweets, fruit, pork, salads, or as garnish.
Use whole for maximum flavour and remove before serving.
Add early in the cooking process.
Whole spices retain better flavour than ground.
Store in the closed ziplock bag until needed and grind using a coffee grinder or mortar and pestle.
The Variety
Cloves are the aromatic dried flower buds of the evergreen tree Syzygium aromaticum, native to the Maluku Islands in Indonesia.
For Your Appreciation
Add an interesting enhancement to many dishes but take care to ensure the flavour does not dominate the dish.
Health Benefits
Chewing cloves gives a numbing effect due to high percentage of eugenol. Cloves are widely known for their therapeutic value for dental abscesses, colds and rheumatics. They have been used for centuries in Indian Auyervedic, Chinese and Western medicine.
Keep it out of landfill!
Box: Recyclable & Biodegradable. Unbleached & responsibly sourced. Soy-based inks.
Clip: Reusable. Biodegradable wood from sustainable sources
Bag: Made in NZ. Plant based laminated film. Majority from sustainable wood pulp & GM-free corn. Made of home compostable films, certified to European standards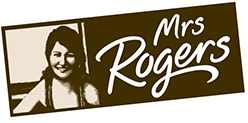 100% New Zealand Owned & Operated
Only logged in customers who have purchased this product may write a review.