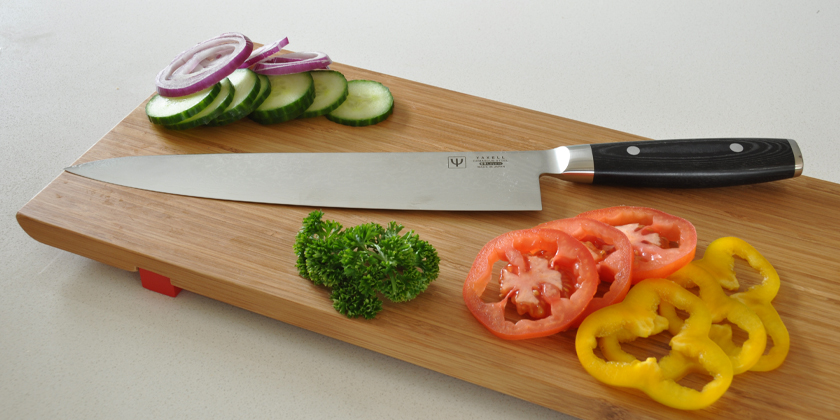 The award-winning Yaxell Ran ("The excellent" in Japanese) knives were launched in 2006 and soon made a name for themselves on a global scale. Their design is classic and modern at the same time and features a fascinating 69-layered Damascus-steel pattern blade with an extremely sharp cutting angle. These knives are in use by hotels and restaurants, and top chefs all over the world. Yaxell knives are becoming more and more popular among discerning hobby chefs.
A little about the blade:
The core material VG10 "super steel" is composed of Cobalt, Molybdenum, Vanadium and Carbon. VG10 stainless steel is clad with 34 layers of soft and hard high carbon steel on each side. Yaxells' special heat treatment gives the blades the outstanding hardness rating of HRC61 on the Rockwell scale, ensuring long-lasting cutting performance.
A little about the handle:
The handle is made out of black Canvas-Micarta, which is a durable material made of resin and linen and formed under high temperature & pressure. The end of the handle is made out of stainless steel, which gives the knife outstanding stability. Two stainless steel rivets fasten the handle tightly. The handle is very comfortable to hold.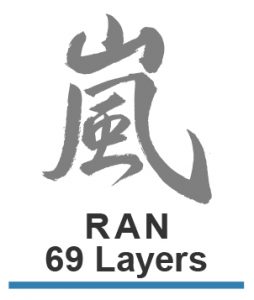 Viewing 1–12 of 24 results
Yaxell Ran 7 Piece Knife Block Set

$

1,199.00

Yaxell Ran Boning Knife 15cm

$

209.00

Yaxell Ran Bread Knife 23cm

$

279.00

Yaxell Ran Carving Fork Tines 15cm

$

159.00

Yaxell Ran Carving Knife & Fork Set

$

369.00

Yaxell Ran Chefs Knife 20cm

$

299.00

Yaxell Ran Chefs Knife 25.5cm

$

319.00

Yaxell Ran Chefs Knife with Ground Hollow Blade 20cm

$

309.00

Yaxell Ran Chinese Chefs Knife 18cm

$

399.00

Yaxell Ran Flexible Knife 16cm

$

159.00

Yaxell Ran Flexible Knife 23cm

$

209.00

Yaxell Ran Meat Slicing Knife 23cm

$

279.00