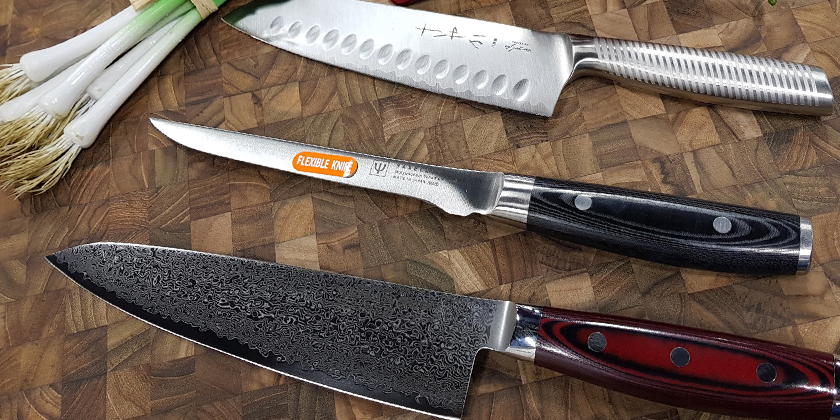 Stunning kitchen knives which combine Japanese quality and beauty.
Here at Chef's Complements, we hand-pick each item you find on our shelves. We have chosen the Yaxell knife range from Japan not just for its superior quality but for its rich history and cultural tradition: Yaxell Knives are a result of 780 years of knife-making in the renowned knife and sword city of Seki.
Founded in 1932, the Yaxell Corporation is the culmination of ancient sword smiths' traditional skills combined with advanced technology. The result is what you can admire in our Taupo store (and online): High-end Yaxell Ran, Super Gou and Sayaka Knives. Each line has one Japanese character as its name and they are highly recommended all over the world. Of course we also carry Yaxell knife sharpeners and whetstones.
Yaxell hope that their 'customers feel anticipation when they choose [their] products and pick them up, and exhilaration each time they use them'. We certainly did when we first included Yaxell knives in our displays!
Yaxell Sayaka Knives
An entry-level kitchen knife range, the Yaxell Sayaka offers a 'super stainless steel' blade which clearly observes the ancient KATANA sword wave line. The handle is made of high-quality 18-10 stainless steel with unique zebra stripes for a firm grip.
Yaxell Ran Knives
Launched in 2006, award-winning Yaxell Ran knives soon made a name for themselves on a global scale. Their design is classic and modern at the same time and features a fascinating 69-layered Damascus-steel pattern blade with an extremely sharp cutting angle. A Yaxell Ran handle is made of black Canvas-Micarta and stainless steel for excellent stability.
Yaxell Super Gou Knives
The stunner amongst Yaxell knives, the Super Gou impresses with a beautiful handle made of red-black Canvas-Micarta and 18-10 stainless steel inside. Yaxell Super Gou knives feature a 161-layer micro-carbe stainless steel blade with an unprecedented hardness of approximately 63 Rockwell.
Yaxell Super Gou Ypsilon Knives
The Yaxell Super Gou Ypsilon was created as an upgraded model of the Super Gou. From the SG2 Micro-Carbide powder stainless steel cutting core to the 193-layer blade and its elegant black micarta handle with the inlaid samurai family crest, every element featured in this range makes it one of Yaxell's top ranges. The blade hardness is 63 Rockwell. Exceptionally beautiful and perfectly crafted, Yaxell Super Gou Ypsilon delivers supreme performance and is a pleasure to use. A nice looking wooden Katana sheath is included in the product.
Viewing 1–12 of 78 results
Yaxell Double Whetstone 240/1000

$

95.00

Yaxell Double Whetstone 3000/8000

$

185.00

Yaxell Double Whetstone 600/1000

$

95.00

Yaxell Kitchen Knife Bag 10 Pockets

$

69.00

Yaxell Magnetic Knife Rack Bamboo (2 Sizes)

$

84.99 –

$

124.99

Yaxell Magnetic Knife Rack Black Bamboo (2 Sizes)

$

99.99 –

$

129.99

Yaxell Maple Wood Katana Sheath (5 Sizes)

$

30.00 –

$

35.00

Yaxell Ran 7 Piece Knife Block Set

$

1,199.00

Yaxell Ran Boning Knife 15cm

$

209.00

Yaxell Ran Bread Knife 23cm

$

279.00

Yaxell Ran Carving Fork Tines 15cm

$

159.00

Yaxell Ran Carving Knife & Fork Set

$

369.00