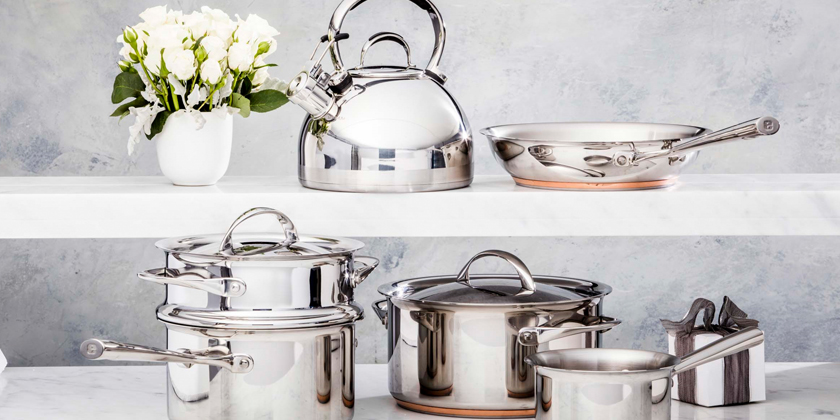 From rustic picnics to breakfast in bed, romantic dinners and family togetherness, nothing symbolises a partnership like cooking for and eating with the one you love. So if you need a wedding present, there is nowhere better to get it than Chef's Complements.
Our gorgeous store is brimming with special occasion gifts perfect for the happy couple. A beautiful wooden chopping board, a cast-iron casserole dish or a handsome knife block would be a long-lasting, constant reminder of their special day. We have fantastic appliances too – KitchenAid mixers or blenders, Magimix food processors or juicers are practical but thoughtful gifts, sure to last the distance and be appreciated by any couple. Beautiful glassware or knives (just remember to add a penny so as not to 'cut' the love!), lovely table linen or durable cookware all make gorgeous gifts.
Help feed a great marriage with the perfect wedding gift and whether they have it out everyday or cherish it for special occasions, they'll remember you with fondness every time they use it. The team at Chef's Complements would love to help you select the perfect gift and wrap it for you in style – so if you want to make wedding shopping stress-free but special, do come on down and see us.
Viewing 1–12 of 119 results
– Chef's Complements Gift Voucher –

$

10.00 –

$

100.00

Abert Vintage Rada 18/10 Flatware Range (9 Variations)

$

5.50 –

$

15.99

André Verdier Laguiole Debutant Carving Set Olive Wood

$

84.99

André Verdier Laguiole Debutant Carving Set White

16% OFF


André Verdier Laguiole Debutant Cutlery Set of 24 Black

$

374.99

André Verdier Laguiole Debutant Cutlery Tray Set of 24 Coloured

$

374.99

André Verdier Laguiole Debutant Cutlery Tray Set of 24 Olive Wood

$

599.99

André Verdier Laguiole Debutant Cutlery Tray Set of 24 Spring

$

374.99

André Verdier Laguiole Debutant Cutlery Tray Set of 24 Tricolour France

$

374.99

André Verdier Laguiole Debutant Cutlery Tray Set of 24 White

$

374.99

André Verdier Laguiole Debutant Knife Block Set of 6 Stainless Steel

$

114.99

André Verdier Laguiole Debutant Knife Block Set of 6 Tricolour France

$

89.99