This vintage stainless steel cutlery from Abert is a truly elegant collection of cutlery that will impress any table setting. With vintage satin finished handles, tines, bowls and blades, this cutlery is a classy choice that will fit seamlessly with other tableware due to its simplistic yet refined design. The satin finish on this cutlery ensures it will last a lifetime, and resists the unsightly scratches and marks that might usually appear with cheaper cutlery. The bevelled edges on the handles are truly a touch of minimalist sophistication, which manages to add detail without appearing overly ornate.
Rada produce only the highest quality stainless steel cutlery, and this range is produced from 18/10 stainless steel. All Rada items are produced completely in Italy by a company that prides itself on producing remarkable cutlery for everyday use.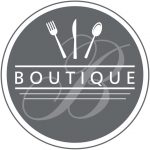 Boutique
Contemporary designs with a point of difference.
18/10 Stainless Steel
Vintage Satin Finished Handles
Vintage Satin Finished Tines, Bowls and Blades