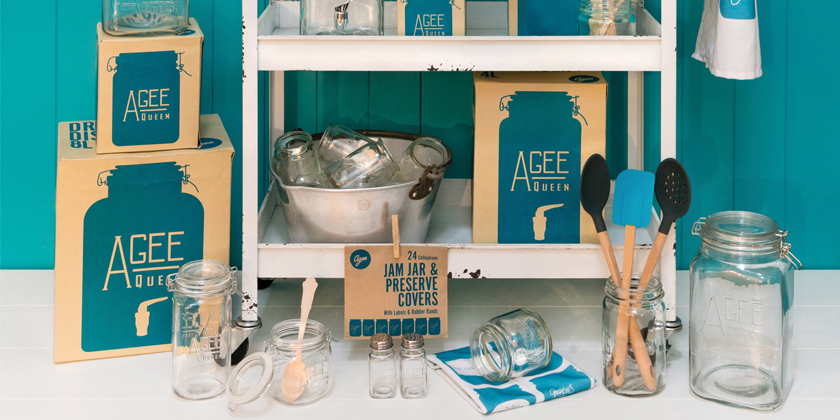 Agee Preserving & Kitchen Accessories
What's a kitchen without Agee Jars?
Is a Kiwi kitchen even a kitchen without an Agee canning jar?
The iconic NZ Agee jars offer a comprehensive range of useful items not only for preserving but for everyday use. Chef's Complements stocks the whole range. You'll find silicone measuring cups/spoons, silicone utensils including tongs, spoons and spatulas, ladles, trivets, oven mitts and gloves.
They also have a gorgeous, iconically branded linen range featuring aprons and tea towels.
Many mums have one tucked away in the pantry somewhere – most likely a remnant from your grandmother's Agee preserving range. And if Agee would have had the gorgeous range of kitchen products they have just started to manufacture, your sure would have even more hand-me-downs today.
And what's better to pay tribute to the ever-popular Agee preserving jars than a retro 8-litre drinks dispenser that looks like a big clip-top preserving jar!
More than a Preserving Jar
If preserving is not your cup of tea, the cool Agee jars are great for decorating too. Use upside-down as a terrarium, fill them with sand and candles, stick fairy lights into them, paint them, fill them with goodies as wedding favours … the possibilities are endless.
So go nuts – you know your granny would have!
Viewing 1–12 of 22 results
Agee Adjustable Apron

$

39.99

Agee Jam Jar & Preserve Covers

$

8.99

Agee Kitchen Spoon Slotted 34cm (2 Colours)

$

19.99

Agee Kitchen Spoon Spatula 30cm (2 Colours)

$

19.99

Agee Kitchen Tongs 25cm (2 Colours)

$

19.99

Agee Kitchen Trivet Square

$

16.99

Agee Kitchen Trivet/Grab It Blue

$

22.99

Agee Measuring Cups 4 Piece Set

$

19.99

Agee Preserving Essential Set 5 Piece

$

36.99

Agee Queen Drink Dispenser 8L

$

69.99

Agee Queen Jar (4 Sizes)

$

8.99 –

$

34.99