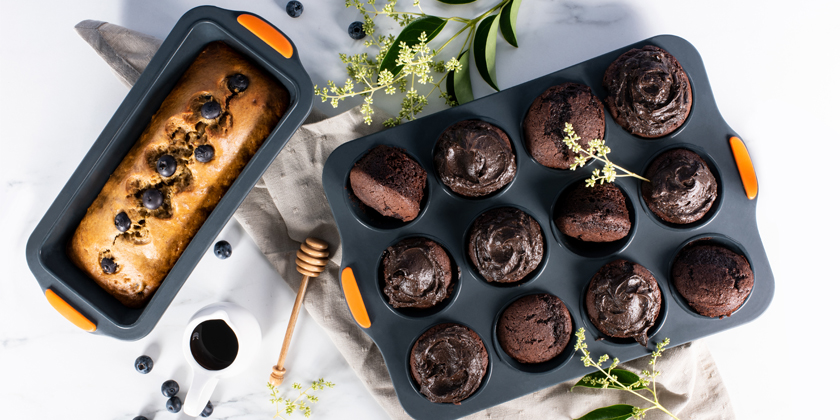 Made from premium BPA-free food-grade silicone, the Bakemaster Reinforced Silicone range is sure to elevate your baking experience. The flexible design ensures quick and easy removal of your baked goods without breaking or cracking. With a built-in reinforced steel frame for strength and stability,  it will not bend or warp when transferring it in and out the oven or to the benchtop. The range's rigid and ergonomic handles are two-toned and feature grooves for a comfortable and secure grip. Featuring a matt grey exterior and a glossy interior, this high-performance bakeware will make a stylish and practical addition to your kitchen.
Features:
Flexible and durable silicone – easy release
Reinforced steel frame
Fridge, Freezer & dishwasher safe
Oven safe to 230°C
Non-toxic materials: BPA, BPS, Phthalates, Lead & Latex-free
5-year Professional Quality Guarantee
Care & Use
The reinforced silicone range is dishwasher, oven, fridge and freezer safe. Always use an oven glove when hot. Before first use, carefully remove all packaging and wash with warm soapy water. NOT suitable for microwave use or on direct heat source or flame. DO NOT use knives and avoid the use of metal scourers which could damage the silicone.
5-Year Professional Quality Guarantee
This range is guaranteed against faulty workmanship or materials for 5 years from the date of purchase providing the care and use instructions are followed. The guarantee does not cover defects occurring to misuse or abuse.
Viewing 1–12 of 18 results
Bakemaster Reinforced Silicone Baking Tray 31.5×25.5cm

$

32.99

Bakemaster Reinforced Silicone Divider Grill Tray (2 Sizes)

$

24.99

Bakemaster Reinforced Silicone Divider Medium Tray

$

22.99

Bakemaster Reinforced Silicone Divider Medium Trays Set of 3

$

67.99

Bakemaster Reinforced Silicone Divider Small Trays Set of 2

$

34.99

Bakemaster Reinforced Silicone Divider Trays Set of 4

$

71.99

Bakemaster Reinforced Silicone Jumbo Muffin Tray 6 Cup

$

32.99

Bakemaster Reinforced Silicone Large Baking Tray 37x27cm

$

37.99

Bakemaster Reinforced Silicone Loaf Pan 24x10cm

$

24.99

Bakemaster Reinforced Silicone Madeleine Pan 16 Cup

$

24.99

Bakemaster Reinforced Silicone Mini Loaf Pan 12 Cup

$

32.99

Bakemaster Reinforced Silicone Mini Muffin Tray 24 Cup

$

32.99