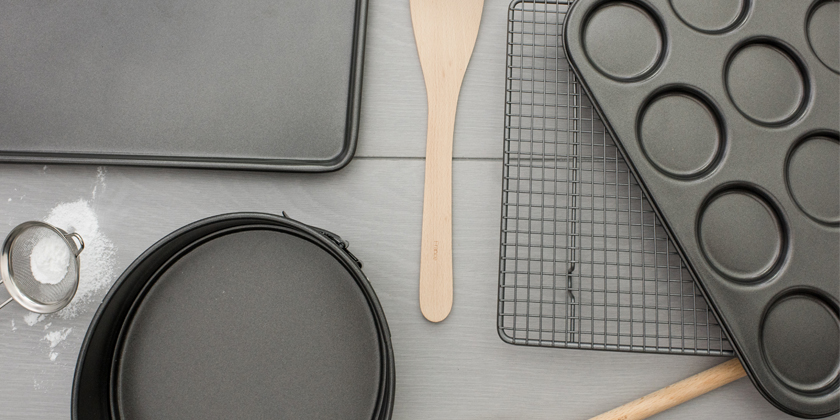 Premium bakeware that will last you for years to come.
Bakemaster offers a range of premium bakeware that will last you for years to come.
Classic Non-Stick
Each item has been designed with the baking enthusiast in mind using heavy-duty carbon steel. Featuring high-quality Quantum2 non-stick coating for easy release and cleaning, this range will make cooking, grilling and baking a breeze. Whether you are a long time cook or first-time baker, Bakemaster has a pan for you!
Silver Anodised
Lightweight and durable, Anodised Aluminium has long been recognised for its exceptional baking qualities. The unique surface provides superior heat distribution and will heat and cool quickly to prevent overbaking. The smooth and seamless surface has non-stick properties that make it easy to release food and easy to clean. Ideal for birthday and wedding cakes, the straight sides and tight corners will help create the perfect tiered cakes and layered desserts. Available in a variety of shapes and sizes, this collection will help you create a perfect bake every time.
Viewing 1–12 of 110 results
Bakemaster Dough Scoring Lame

$

9.99

Bakemaster Dough Scraper

$

3.99

Bakemaster Dough Whisk

$

11.99

Bakemaster Non-Stick Baking Sheet Insulated 35x28cm

$

22.99

Bakemaster Non-Stick Baking Tray 18x24cm

$

16.99

Bakemaster Non-Stick Baking Tray 35x25cm

$

19.99

Bakemaster Non-Stick Baking Tray 39x27cm

$

21.99

Bakemaster Non-Stick Box Sided Loaf Pan 21x11x7cm

$

21.99

Bakemaster Non-Stick Brownie Pan 12 Hole

$

36.99

Bakemaster Non-Stick Brownie Pan 34x20cm

$

24.99

Bakemaster Non-Stick Cooling Tray 25x23cm

$

16.99

Bakemaster Non-Stick Cooling Tray 46x25cm

$

25.99