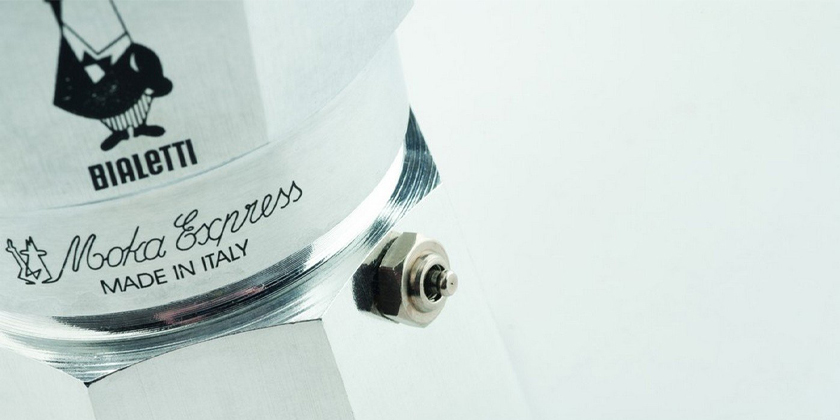 Bialetti Espresso Makers & Accessories
Meet the famous Moka Express.
When reading the word 'Bialetti', do you instantly smell the aroma of coffee, or is that just us?
Whether it's at home, at the campsite or on a road trip, coffee lovers who want to step it up a notch from plungers have been choosing Bialetti Espresso Makers for almost 100 years. The iconic Moka Express stovetop coffee maker has been on the market since 1933 and has truly revolutionised the way coffee was made at home.
Coffee from a Moka Express is closer in intensity to that made by a fully-fletched espresso machine than a filter pot or plunger. However, a Bialetti Coffee Maker is of course much smaller than a machine, it's great for travelling and, most importantly, much easier on the wallet.
Invented in Italy during a time of stainless steel embargos, Alfonso Bialetti decided to use a rather uncommon metal for household goods: aluminium. Today, we know that aluminium seasons wonderfully with the natural oils from coffee, which helps to create flavoursome coffee again and again.
In 1953, the Bialetti Moka Express was adorned with a sketch of Alfonso Bialetti – 'the little man with the moustache' – which is now part of the company logo and recognised the world over.
Here at Chef's Complements, we stock the following Bialetti products:
Stovetop Coffee Makers
The original Moka Express produces a rich, authentic espresso in minutes. Nowadays you can even get induction-capable styles and stainless steel options if aluminium is not your thing. Tip: The Italia Range makes a lovely gift for lovers of Italian things (and who isn't one of them?!).
Those of you who are after an even more authentic brew with twice the concentration of intensity, find out more about the Brikka.
Bialetti Milk Frothers & Accessories
We've got your back when it comes to Bialetti's range of accessories for preparing delicious Italian coffee in the comfort of your own home. Enjoy super-fresh coffee with a grinder and get a Bialetti milk frother for barista-style coffee. Or how about elegant glass coffee cups with the iconic Bialetti branding!
Bialetti Spare Parts
We stock an extensive range of spare parts to ensure your Bialetti Coffee Maker enjoys the longest life possible. For your convenience, we always aim to have all seals in stock.
For more information on how to use your Bialetti Coffee Maker, how to select and grind beans and how to froth milk visit our Bialetti Blog.
Viewing 1–12 of 31 results
Bialetti Brikka Limited Edition Red- 4 Cup

$

145.00

Bialetti Brikka (2 Sizes)

$

134.99 –

$

154.99

Bialetti Coffee Press (2 Sizes)

$

74.99 –

$

84.99

Bialetti Espresso Cup Pop Arte Set of 4

$

44.99

Bialetti Funnel for Stainless Stovetops (4 Sizes)

$

13.99 –

$

16.99

Bialetti Glass Cappuccino Cup & Saucer

$

15.99

Bialetti Glass Espresso Cup & Saucer

$

12.99

Bialetti Hand Coffee Grinder Black

$

76.99

Bialetti Induction Hob Adapter 20cm

$

64.99

Bialetti Induction Plate 13cm

$

49.99

Bialetti Lichtenstein Cappuccino Cup & Saucer

$

16.99

Bialetti Lichtenstein Mug 250ml

$

12.99