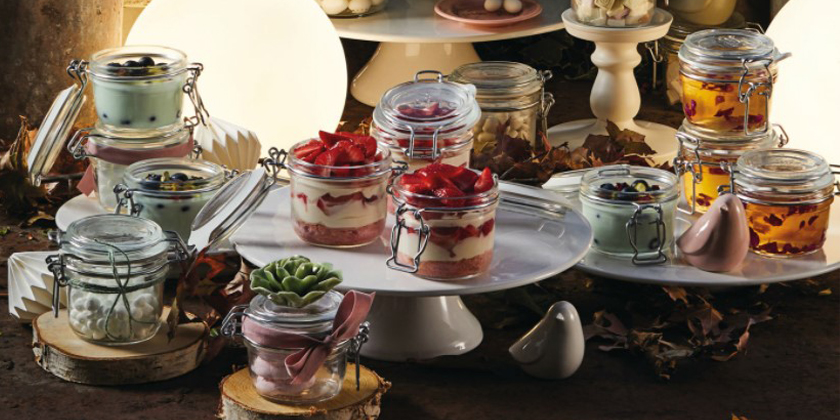 Since 1968, the iconic jar with the airtight lid with endless uses. Made in Italy.
Fido storage jars have airtight bail & seal closures to hermetically seal out air and moisture. From freezer to the countertop, use them for dry, fresh or leftover foods, pantry storage and preserving. They're also great as gift containers for homemade delicacies as well as for decorational use. The wide opening lid makes it easy for layering for attractive gift-giving ideas. Very multi-purpose!
Preserving
Perfect for preserving fruits and vegetables and making jams and preserves.
Decoration
Hermetic jars perfect for preserving, home decoration and original table setting. Check out these Mini Gardens you can create using Fido Jars!
Replaceable rubber seals available
Commercial grade toughened glass
Leak-proof & Air-tight
Freezer Safe (Down to -20°C/-4°F)
Dishwasher safe & microwave safe (do remove wire bail and gasket/seal first)
Hand washing recommended without any cleanser for the gasket and the metal ring.
Not Oven Safe
Made in Italy
Check out our Bormioli Rocco Blog to see great uses and recipes for these jars!
Viewing all 8 results
Bormioli Rocco Fido Glass Cliptop Jar 1.5L

$

17.99

Bormioli Rocco Fido Glass Cliptop Jar 1L

$

12.99

Bormioli Rocco Fido Glass Cliptop Jar 2L

$

19.99

Bormioli Rocco Fido Glass Cliptop Jar 3L

$

26.99

Bormioli Rocco Fido Glass Cliptop Jar 4L

$

29.99

Bormioli Rocco Fido Glass Cliptop Jar 500ml

$

11.99

Bormioli Rocco Fido Glass Cliptop Jar 750ml

$

14.99

Bormioli Rocco Fido Rubber Jar Seals Pack of 6

$

15.99