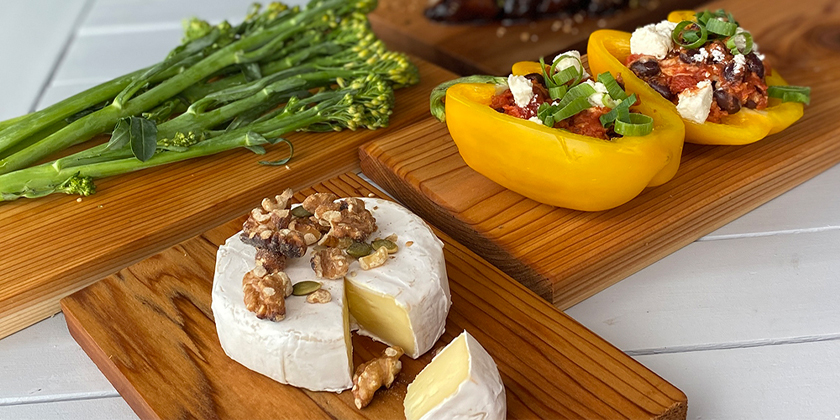 The Ultimate Taste Sensation – Canadian western red Cedar gourmet grilling planks are manufactured right here in New Zealand!
Impress your guests with a beautiful meal cooked on a Cedar Works grilling plank for yourself and your loved ones. A true way to entertain at gatherings. CedarWorks Gourmet Cedar Grilling Planks are 100% natural and free of any chemical treatment. The Canadian Western Red Cedar is FSC certified, non-toxic, contains no harmful chemicals, has not been treated in any way & is non-allergenic. All of the good stuff!
Cooking with Cedar – Where it began
Cedar plank cooking originates from native American tribes of the Pacific Northwest who pioneered the tradition of using wooden cedar planks to grill & smoke their food gathered from hunting expeditions. They would tie fish, game & poultry to cedar planks, place them around an open flame fire to slowly cook using the indirect heat source. Once European early settlers landed on these shores, they soon discovered this unique & previously unknown style of cooking. They soon embraced & adapted it to add vegetables & their own seasonings. Today, cedar plank & cedar wrap cooking has developed into a culinary treat & is now a tradition enjoyed worldwide used by chefs & home cooks alike. Cedar adds a truly unique flavour by combining the earthiness of natural wood & smoked flavour created by indirect heat.
Just a few options to use your planks for!
Burgers
Cheese
Dessert
Fish
Fruit
Kebabs
Meat
Mushrooms
Pizza
Poultry
Seafood
Vegetables
Fish is the most common pairing for Cedar planks and wraps but you can grill almost anything this way. Try steak, poultry, pork, tofu, veggies, halloumi, brie, or goat cheese. It's not the best way to cook leafy greens but asparagus, eggplant, zucchini, carrots, green beans, and a whole lot of other vegetables taste amazing when cooked on Cedarwood. Let your imagination guide you! There are so many delicious dishes you can cook this way & it's oh so easy. Just soak, smoke & enjoy! Check out all the recipes on the CedarWorks Recipe Page
Grilling Plank Sizes
CedarWorks' cedar wood planks come in 4 different sizes to suit your grilling needs. The smallest size is great for individual portions or different proteins, veggies, cheeses, or desserts & up to the largest 45cm plank is large enough for a side of salmon or fillet steak. 20cm | 28cm | 38cm | 45cm
Cedar Works is owned by husband & wife team Warren & Jenny. They are NZ's leading manufacturers & suppliers of premium planks & wraps for gourmet cooking enthusiasts of all levels.
Viewing all 5 results
CedarWorks Gourmet Cedar Grilling Planks 20cm Pack of 2

$

22.99

CedarWorks Gourmet Cedar Grilling Planks 28cm Pack of 2

$

33.99

CedarWorks Gourmet Cedar Grilling Planks 38cm Pack of 2

$

45.99

CedarWorks Gourmet Cedar Grilling Planks 45cm Pack of 2

$

56.99

CedarWorks Gourmet Cedar Grilling Wraps 25x19cm Pack of 10

$

28.99