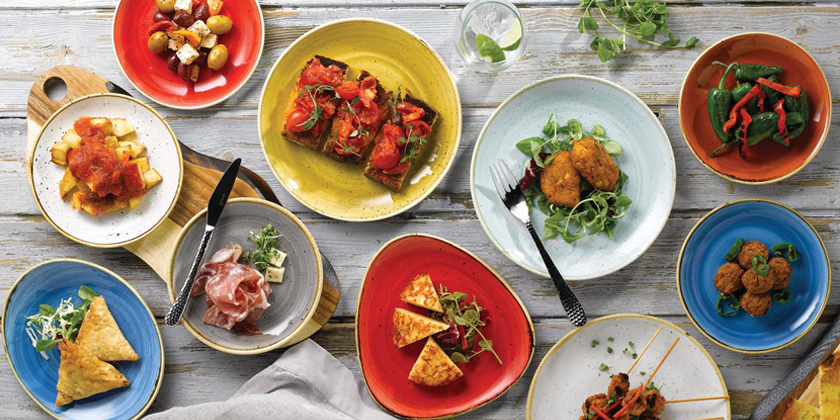 Churchill Super Vitrified Crockery
Choose Churchill tableware – engineered for performance.
Say goodbye to chipped tableware with Churchill bowls and plates. Churchill super-vitrified crockery is synonymous with superior-quality ceramics, and is one of the strongest ceramic products in the world. Designed with trend-setting chefs, they don't just last much longer than regular ceramics, but look the part too. Churchill Vitrified Tableware is hugely popular in commercial kitchens, restaurants and aged care facilities.
Super Vitrified – the Benefits
The vitreous body doesn't absorb moisture, making it more hygienic
Better heat retention properties
Superior strength – high thermal shock resistance to reduce breakage
Vitrified crockery maintains beautiful presentation for a long time
Resistant to metal markings and corrosive dishwasher chemicals to maintain the glossy shine of your crockery
5-year edge chip warranty (selected pieces)
Last but not least … we may be biased, but just LOOK at it – it's gorgeous!
Churchill Bowl, Plates & More – Introducing the Beautiful Stonecast Range
With yummy colour ranges such as Spiced Orange, Peppercorn Grey and Mustard Seed Yellow, our expectations were high when we first heard of Stonecast Churchill Crockery. And their latest tableware selection certainly didn't disappoint. These rustic, hand-decorated vitrified plates, bowls and other items are pin-fired, then hand-painted and finished with a fine speckle and rustic edge in golden brown. We love that every piece is unique and have had great feedback from restaurants, cafés and pubs, serving a wide range of cuisines.
To help you choose which range is best suited for your needs, we have put together an overview of the other different styles available:
Homespun Vitrified Crockery: Homespun pottery look with hand-applied edge band.
Raku Vitrified Tableware: Stunning topaz blue, inspired by authentic reactive glazing processes.
Trace Vitrified Crockery: Soft, organic shapes with a focus on simplicity and the trade-mark rustic edge band.
Moresque Vitrified Tableware: Uplifting accent on your tabletop, showcasing the latest pattern trends in blue and orange.
Vintage Prints Vitrified Crockery: Vintage chic offers the opportunity to mix and match charming prints.
Evolve Vitrified Tableware: Simplicity meets style with this rimless coupe-shaped range of classic crockery.
Viewing 1–12 of 77 results
Churchill Stonecast Oval Coupe Plate 192mm (4 Colours)

$

37.99

Churchill Stonecast Round Coupe Bowl Barley White (3 Sizes)

$

46.99 –

$

74.99

Churchill Stonecast Round Coupe Bowl Cornflower Blue (3 Sizes)

$

46.99 –

$

74.99

Churchill Stonecast Round Coupe Bowl Duck Egg Blue (3 Sizes)

$

46.99 –

$

74.99

Churchill Stonecast Round Coupe Bowl Peppercorn Grey (3 Sizes)

$

46.99 –

$

74.99

Churchill Stonecast Round Coupe Bowl Spiced Orange (3 Sizes)

$

46.99 –

$

74.99

Churchill Stonecast Round Coupe Plate Barley White (5 Sizes)

$

29.99 –

$

84.99

Churchill Stonecast Round Coupe Plate Cornflower Blue (5 Sizes)

$

29.99 –

$

84.99

Churchill Stonecast Round Coupe Plate Duck Egg Blue (5 Sizes)

$

29.99 –

$

84.99

Churchill Stonecast Round Coupe Plate Mustard Seed Yellow (3 Sizes)

$

31.99 –

$

64.99

Churchill Stonecast Round Coupe Plate Peppercorn Grey (5 Sizes)

$

22.99 –

$

71.99

Churchill Stonecast Round Coupe Plate Spiced Orange (5 Sizes)

$

29.99 –

$

84.99