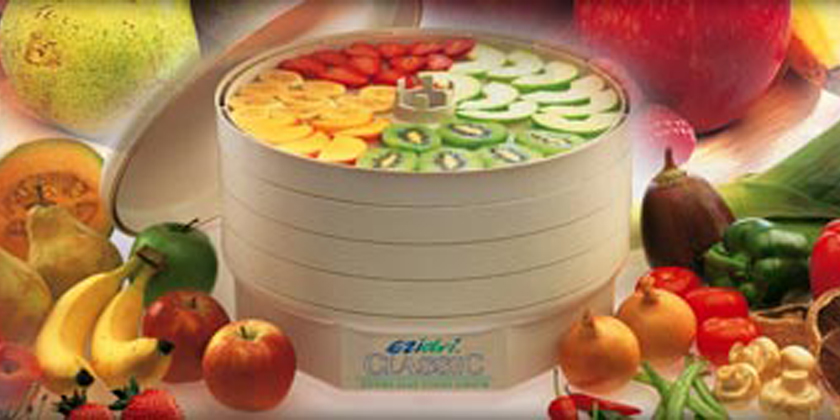 Whether you want to preserve in bulk when fruit and produce are plentiful, or simply to produce healthy and nutritious snacks whenever you need them, there's an Ezidri for you — from the Ezidri Snackmaker to the top-of-the-line Ultra FD1000.
Ezidri home food dehydrators enable you to dry and preserve fruit, vegetables, meals, meats, soups, delicious snacks and fruit roll-ups, herbs flowers the natural way — quickly and economically — while retaining all the nutrients, natural colour and original flavours.
Designed and developed in New Zealand by Hydraflow, Ezidri is the result of over 20 years of manufacturing experience. Ezidri home food dehydrators incorporate advanced technology with a unique heated airflow pattern that ensures fast, accurate, even drying with minimal electricity requirements.
All Ezidri units are manufactured to the highest quality standards with food-grade ABS plastic and polycarbonate, high-speed motors, double thermal cut-out safety features, IEC335, CB and CE Certification. Ezidri provides the most cost-effective home food dehydrators on the market with years of reliable, service-backed operation.
Viewing all 10 results
EZIDRI FD500 Mesh Sheet

$

6.50

EZIDRI FD500 Snackmaker Food Dehydrator

$

229.00

EZIDRI FD500 Solid Sheet

$

7.99

EZIDRI FD500 Spacer Ring

$

30.00

EZIDRI FD500 Tray Set of 2

$

30.00

EZIDRI Ultra FD1000 Food Digital Dehydrator

$

369.00

EZIDRI Ultra FD1000 Mesh Sheet

$

6.50

EZIDRI Ultra FD1000 Solid Sheet

$

7.00

EZIDRI Ultra FD1000 Spacer Ring

$

20.00

Ezidri Ultra FD1000 Tray

$

20.00