FINEX Cast Iron Lean Grill Pan 38cm
Cook anywhere with the highest ribs in the game and make perfect grill marks
Secured Payment
|
Free shipping over $100 (excludes bulky products)
View On Mobile Open your camera and Scan the QR code to view on your mobile.
AN AMERICAN TRADITION, REINVENTED
The FINEX journey began with the search for healthier cooking. They wanted a pan that would provide a soulful cooking experience and look good while doing it. Through trial and error, they found that the quality of current cast iron cookware didn't measure up. They became obsessed with the intentional design, quality and craftsmanship of antique cast iron cookware—and decided they would stop at nothing to build it on American soil. FINEX wanted to build functional, durable cookware that's better than anything on the market today
FINEX is a small team of craftspeople, cooks and designers based out of Portland, Oregon, U.S.A., and are dedicated to crafting quality cookware that will stand the test of time. Their work is inspired by the hardworking history of American cast iron and grounded in their belief that cooking should be genuine – an experience you value and share with others. It's these simple ideals that guide FINEX to reinvent cast iron cookware with modern design to enhance the life of every cook. Their work ethic is a bit outdated. FINEX polish metals by hand and season the cast iron the slow way.
While the production may reflect old-fashioned techniques, FINEX boasts a range of ultra-modern designer cast iron cookware pieces. FINEX believe the things you use every day should be beautiful, guaranteed for life, and 100% American made. Portland is home to one of the largest collections of cast-iron architecture in the USA, dating back to the 1850s. This spirit has carried on through the decades and is an essential part of FINEX's DNA today. Their small team is passionate about crafting cast iron cookware that lives up to our "Good Forever" guarantee with Portland's foundry tradition in tow.
DESIGNED FOR LIFE.
FINEX pays homage to the best attributes of vintage cast iron cookware: machine-smoothed cooking surfaces, flaxseed oil pre-seasoning and stone-tumble polishing. The FINEX team took to the drawing board and meticulously worked to make their pots and pans even better. FINEX cookware blends together essential elements of soulful cooking to give you the best experience and performance whenever and wherever life wants you to cook. FINEX cookware is equally at home on the stove, in the oven, on the grill or over a bed of coals. Cast Iron Cookware by FINEX is so versatile it's sure to complement any cooking style, at any level, on any heat source – and look great on your table. It stands up to an open flame while elevating the meal at the dining room table. A true all-rounder.
Construction
Crafting a new class of quality. It takes FINEX longer to craft their cookware, but luckily for us, they don't believe in shortcuts. FINEX are meticulous on quality and their cast iron cookware surpasses current standards. TWELVE. That's how many pairs of hands it takes to craft FINEX Cookware, and about the same amount of hours. These pans are crafted by hand the hard way, and we sweat the details because every FINEX pan is guaranteed Good Forever. Cast with precision using temperatures exceeding 2000 degrees, FINEX carefully melts quality sourced iron to start their craft process.
Every cast iron pan is cast with precision by hardworking American hands. Using tried and true tools including angle grinders, buffing wheels and industrial tumblers, FINEX go to work carefully refining the iron to bring out each pan's thoughtful design. Paying close attention to every detail, they allow for subtle variations that make each piece unique and have their own personality that'll fit right into your kitchen, grill or campfire. Every pan is polished, tumbled, pre-seasoned and assembled completely by hand.
Cast Iron Grill Pans
Cook anywhere with the highest ribs in the game and make perfect grill marks.
Perfect cast iron grilling results—indoors and out. True BBQ-width grill ribs give you the best cross-hatch grill marks whether on the stove, grill or over the coals. Great for steaks, chops and salmon—it was made for the reverse seared steak technique. Healthy, honest grilling that keeps the flavour and loses the fat. The FINEX Lean Grill Pan features a domed interior surface that drains fat and grilling juices to the pan's margins, ensuring that grilled foods gain flavour, not fat. When used on one burner, the Lean Grill Pan's corners stay cooler, allowing grease to collect without smoking. Many Lean Grill Pan fans use it for crispier & leaner bacon or longer cuts like strip steaks or salmon fillets.
Features
Heavy Gauge Grill Ribs0.64cm tall ribs deliver serious sear lines while creating space for excess fats and juices to drain away – ensuring that you're grilling, not frying or boiling, your food.
True BBQ Width Spacing Half a centimetre wide ribs spaced 1.6cm apart allow for easier cleaning and enough dry heat between the ribs to deliver true grilling flavour.
Hand Seasoned with Organic Flaxseed Oil Ready to cook right out of the box, each cast iron piece comes pre-seasoned with 100% organic flaxseed oil to a non-stick, rust-resistant bronze finish that will patina, darken and continue to improve as you cook.
Machined Ribs Individually CNC machined smooth ribs are smooth to the touch for near non-stick grilling and easier cleaning
Domed Surface Domed interior surface drains excess fat and juices to the corners of the pan, reducing smoke and delivering FINEX true grilling flavour, without the fat.
Polished to Perfection Polished, easy-to-release cook surface. Hand seasoning each of their pots and pans is a tedious extra step, but FINEX knows it's worth it. The result means eggs slide easily and sauces won't stick.
Suitable for all hobs: You'll love cooking with it indoors and out, on any heat source—including induction.
Heavy Gauge Cast Iron Thick bases & walls distribute heat better, delivering stronger searing and more even cooking on any heat source. Make sure to read the USE & CARE to learn how to best cook with cast iron.
THE ALL-IMPORTANT USE & CARE
Heirloom quality cookware deserves superb maintenance. The FINEX 3-Piece Care Kit contains everything you need to keep your cookware pristine and preserved for generations. This kit comes with a Chain Link Scrubber, Wooden Scraper, and Organic Flaxseed Oil Eyedropper.
Pre-seasoned for cooking: Pre-seasoned with 100% organic flaxseed oil for a durable, stick-resistant finish, FINEX is ready to cook right out of the box. Rinse new cookware with warm water and dry completely. To re-enforce seasoning use a little extra oil or cook something extra fatty, like bacon for the first few uses. A darker patina will develop over time, indicating a thicker natural seasoning, and will enhance the stick-resistant cooking surface.
Cooking with Cast Iron: Cast iron may take longer to warm up, preheat your cast iron pan on medium-low heat for a few minutes before cooking. FINEX's thick-wall design provides even heat distribution and better retention for a searing performance unlike anything else on the market. Perfectly crispy skin and golden brown edges are just minutes away.
CLEANING CAST IRON
Step 1. Clean For best results wash your FINEX by hand immediately after use. For ease, clean while still warm. To avoid rust, do not soak, leave in the sink or put the cookware in the dishwasher. To remove stuck-on food, use water, a dab of soap and a chain-link scrubber. Stubborn food grime? Use the wood scraper to loosen stuck-on food. The speciality cut fits the ribs of the Grill Pans and features multi-angled sides to reach and remove food from every corner of your cookware.
Step 2. Dry Thoroughly dry your FINEX with low heat on the stove or in the oven to avoid rust. Do not air dry. Remember, if left wet it will rust.
Step 3. Oil Using the Eyedropper, apply a drop or two of organic flaxseed oil to your skillet and buff it into the iron with a paper towel or dry dishcloth.
Reseasoning Cast Iron Cast iron is very durable and forgiving. Scorched, scratched or rusted pans can be returned to perfect working condition with a little elbow grease and some quality oil. Preheat your oven to 200°C. If your pan has rust, gently remove it using our Chain Link Scrubber. Wash and dry your cast iron cookware thoroughly. Once completely dry, using the Eyedropper apply a very thin layer of organic flaxseed oil to the entire surface of your cast iron pan (including the outside). Buff off any excess oil, then bake for one hour.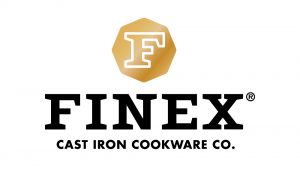 Only logged in customers who have purchased this product may write a review.