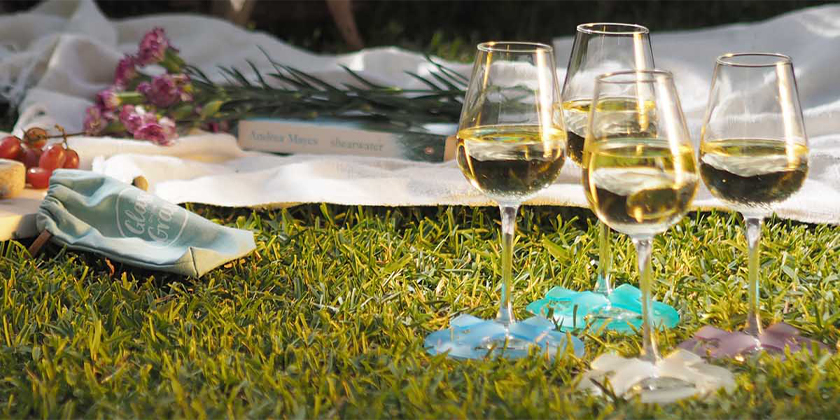 Life's too short to spill wine!
Slip-on wine glass coasters that stabilise your wine glass on grass, picnic blankets, sand and outdoor tables. Just slide them on your wine glass before you pour your first drink and leave them on. They are light, portable, easy to use, save your glass tipping. Choose your favourite colour and you will also be able to identify your glass. Glass on the Grass is designed to fit most steamed wine glasses. They also fit small plastic picnic glasses and festival wine tasting glasses.  They are made from durable, BPA free, food-grade K-Resin and are designed for long term use but are 100% recyclable. Designed, developed and made in the Northern Beaches of Sydney, Australia using eco-friendly production using approx 30% of recycled material.
Ideal for picnics, festivals and camping.  They are also great for home entertaining – just take your glass outside. Glass on the Grass, for when you want to drink out of a real wine glass outdoors. Comes in a pack of 4 wine coasters in an eco-friendly bag. The perfect picnic accessory.
Viewing 1–12 of 24 results
Glass On The Boat Wine Glass Coaster Blue

$

49.99

Glass On The Boat Wine Glass Coaster White

$

49.99

Glass On The Grass Wine Glass Coaster Bamboo Berry

$

39.99

Glass On The Grass Wine Glass Coaster Bamboo Grass

$

39.99

Glass On The Grass Wine Glass Coaster Bamboo Marine Blue

$

39.99

Glass On The Grass Wine Glass Coaster Bamboo Mixed

$

39.99

Glass On The Grass Wine Glass Coaster Bamboo Natural

$

39.99

Glass On The Grass Wine Glass Coaster Beach Collection

$

39.99

Glass On The Grass Wine Glass Coaster Garden Party

$

39.99

Glass On The Grass Wine Glass Coaster Gentlemans' Collection

$

39.99

Glass On The Grass Wine Glass Coaster Jessie's Girl Collection

$

39.99

Glass On The Grass Wine Glass Coaster Party Girl Collection

$

39.99