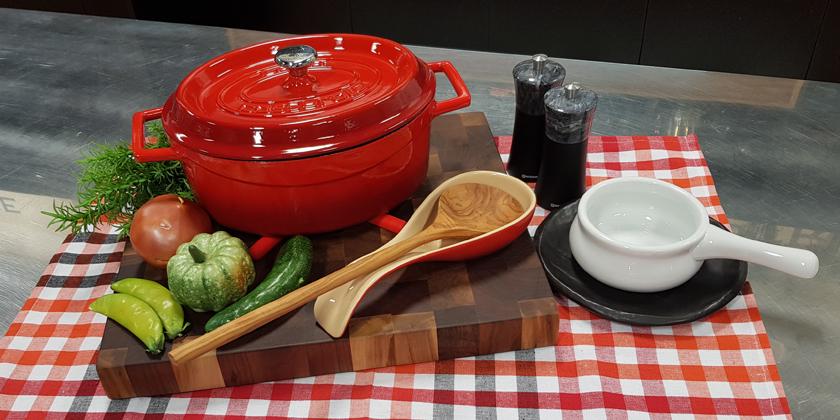 Lava casseroles: hot food, hot design, hot pricing.
The first thing that's so enticing about Chef's Complements' range of Lava cookware is, quite obviously, the sharp pricing. Thanks to the management's special connections, we are able to bring you this enamelled cast iron cookware at sensational prices.
But with Lava you don't compromise on quality. Every Lava casserole, pot and pan is hand-finished and individually inspected to pass stringent standards. With more than 40 years under their belt, Lava's state-of-the-art factory in Turkey has been solely developed for iron casting and enamelling. If you buy, for example, a Lava casserole dish, you get the highest standards in quality, performance and beauty. Here at Chef's Complements, we stock all colours, including black, blue, green, red, orange and even purple Lava Dutch ovens.
We offer round Lava casseroles in sizes 20cm, 24cm and 28cm; and ovals in 25cm and 29cm. This means you can bake, broil, braise, boil, simmer, sauté, chill or warm portion sizes and dishes suited to your individual needs. And guess what: they are even handy if you don't intend to do any of the above and have a night off cooking: Lava cookware looks stunning simply sitting on your kitchen shelf.
After selling these multi-tasking beauties for years, we know that they are not only popular with budget-conscious home cooks, but they also feature heavily in the hospitality trade in buffets etc. Lava Dutch ovens can be used on portable or electric induction plates and sit very nicely on buffet tables.
Viewing 1–12 of 25 results
Lava Cast Iron Low Round Casserole Black (2 sizes)

$

274.00 –

$

334.00

Lava Cast Iron Low Round Casserole Blue 28cm / 3.5L

$

334.00

Lava Cast Iron Low Round Casserole Green 28cm / 3.5L

$

399.00

Lava Cast Iron Low Round Casserole Red (2 Sizes)

$

274.00 –

$

399.00

Lava Cast Iron Low Round Casserole with Glass Lid Black (2 Sizes)

$

339.00 –

$

369.00

Lava Cast Iron Low Round Casserole with Glass Lid Green (2 Sizes)

$

339.00 –

$

369.00

Lava Cast Iron Low Round Casserole with Glass Lid Red (2 Sizes)

$

339.00 –

$

369.00

Lava Cast Iron Oval Casserole Black (2 Sizes)

$

289.00 –

$

369.00

Lava Cast Iron Oval Casserole Blue (2 Sizes)

$

289.00 –

$

369.00

Lava Cast Iron Oval Casserole Green (2 Sizes)

$

289.00 –

$

369.00

Lava Cast Iron Oval Casserole Orange (2 Sizes)

$

289.00 –

$

369.00

Lava Cast Iron Oval Casserole Red (2 Sizes)

$

289.00 –

$

369.00