Handmade – mouth-blown – 100% Moroccan made
Manufactured since 1946 at the last remaining hand-blown glass factory in Morocco (Sover, in Ain Sebaa – Casablanca). This factory was very recently saved from closing its doors for good before the Beldi group took over giving it a modern factory, built with the old teams of Sover inside the Beldi Country Club. These skilled artisans now continue to make these traditional tea glasses and bowls.
A 100% Moroccan handmade product, these Beldi glasses are the result of an eco-friendly manufacturing process. The factory producing Beldi glasses recycles two tons per day of flat glass and glass bottle waste, remelted in a furnace heated to about 1600 degrees and kept at temperature 24 hours. The blown glasses are cut by hand using an oxygen and gas flame. The debris goes back to the melting furnace, while the glasses are placed in an annealed furnace for 3 hours.
Manufactured using a proven process for over 3/4 of a century, Le Verre Beldi is blown from locally recycled glass. Originally intended to serve tea, the classical "Beldi" glass serves many purposes. Each item has its own unique characteristics typical of an artisan product. Bubbles, dents and marks result as the molten glass is shaped and formed. Some are from the blowing and some from the tools used. This is a normal part of the glass process and adds character to each piece.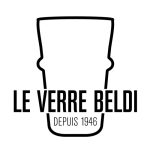 Viewing all 2 results
Le Verre Beldi Tea Glasses Cobalt Blue (2 Sizes)

$

5.99 –

$

6.99

Le Verre Beldi Wine Glasses Cobalt Blue (2 Sizes)

$

8.99 –

$

9.99