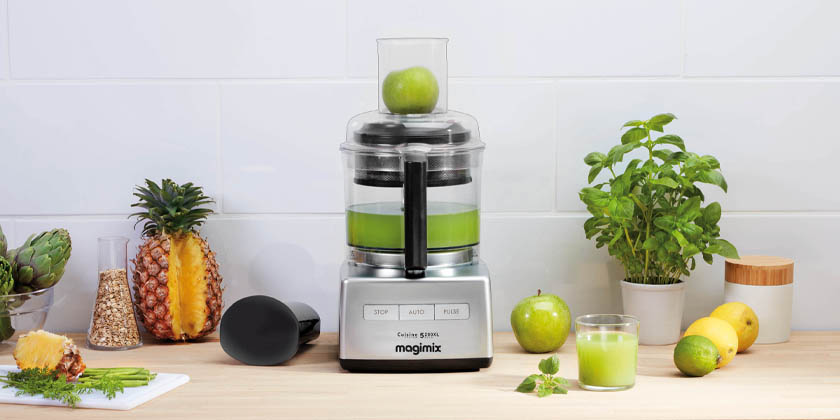 Invented by Magimix and manufactured entirely in France, the multifunction food processor has become an invaluable help for everyday cooking and special gourmet occasions. Adapted from commercial food processors, the Magimix remains unsurpassed as the world leader in food processors since 1971. Fast, versatile and very simple to use.
Multifunction
Grating carrots or potatoes, chopping meat, slicing cucumbers or tomatoes, blending soups, whizzing up milkshakes, kneading brioche, bread dough or shortcrust pastry, emulsifying sauces, whipping cream or whisking egg whites.
You may ask: 'Is there anything this food processor won't do?' Well, it can't cook. But if you need that function too, Chef's Complements have just the 'gadget' for you: Check out the Magimix Cook Expert!
Simple, Sturdy & Efficient
Just 3 buttons to access all functions
The motor automatically adjusts its power for each task
Manufactured in France
3 bowls that operate independently, allowing tasks to be carried out in quick succession
Ultra-quiet, energy-efficient, commercial-grade motor with a 30-year warranty
3-year parts guarantee (for domestic use)
Serrated Sabatier stainless steel blades are made in France and stay sharper longer
A recipe book tailored to each model
Accessory box provides safe compact storage
Viewing 1–12 of 17 results
Magimix Compact 3200 Food Processor Black

$

599.00

Magimix Compact 3200 Food Processor White

$

599.00

Magimix Compact 3200 XL Food Processor Red

$

699.00

Magimix Compact 3200 XL Food Processor Satin

$

799.00

Magimix Compact 3200 XL Food Processor White

$

699.00

Magimix Cuisine Systéme 4200 XL Food Processor Black

$

799.00

Magimix Cuisine Systéme 4200 XL Food Processor Red

$

799.00

Magimix Cuisine Systéme 4200 XL Food Processor Satin

$

899.00

Magimix Cuisine Systéme 4200 XL Food Processor White

$

799.00

Magimix Cuisine Systéme 5200 XL Food Processor Black

$

999.00

Magimix Cuisine Systéme 5200 XL Food Processor Red

$

999.00

Magimix Cuisine Systéme 5200 XL Food Processor Satin

$

1,099.00