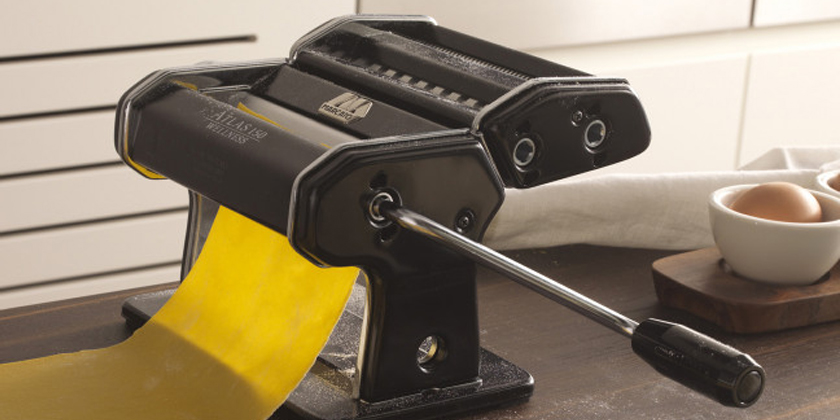 Marcato Pasta Machines & Accessories
Mama Mia, Marcato! What a pasta maker.
Who's up for a trip to sunny Italy? Here at Chef's Complements, we don't have travel brokers on board, but we do have a team who hand-select the best kitchen products. And our kitchen gurus are certain: Handcrafted pasta from a Marcato pasta machine is the next best thing to visiting Italy. (And who is keen on that loooong flight over there anyway!?)
Marcato pasta makers are world-leading in the game of pasta machines and accessories for Italian foods. Proudly made in Italy by a family company, they started out in 1930. Their aim is to bring a piece of Italy and the famous Mediterranean diet into every household. With a Marcato pasta machine, you can make fresh pasta made from simple, genuine ingredients, giving you the choice to use organic flours, eggs etc etc.
Marcato pasta makers are produced in Italy, using sustainable, environment- and health-conscious processes. Coupled with cutting-edge technology, innovative materials and attention to detail, their products are of the highest quality.
Browse our website to find the following:
Marcato Atlas Pasta Machine – The most popular machine for making fresh home-made pasta. Icon of Made in Italy Design.
Marcato Atlas accessories – Easily create a host of pasta types with pasta cutters and shakers.
Marcato Ravioli Trays – The clever mould for stuffed pasta that allows you to make tasty, fresh ravioli in just a few minutes.
Marcato Grain Mill – Take 'home-made' to the next level by grinding wheat and grains to make flour, flakes and malt for beer!
Viewing 1–12 of 15 results
Atlas Electric Pasta Machine

$

449.00

Atlas Motor Drive Attachment

$

275.00

Marcato Atlas Pasta Bike Black

$

69.99

Marcato Atlas Pasta Bike Blue

$

59.99

Marcato Atlas Pasta Bike Red

$

69.99

Marcato Dispenser/Shaker (2 Colours)

$

69.99

Pasta Machine Atlas 150 Design Series Black

$

269.00

Pasta Machine Atlas 150 Design Series Red

$

269.00

Pasta Machine Atlas Wellness 150

$

199.00

Pasta Machine Atlas Wellness 150 3 Piece Gift Set

$

399.00

Pasta Machine Attachment Linguine

$

89.99

Pasta Machine Attachment Pappardelle

$

84.99