Pasta Machine Atlas 150 Design Series Black
MARCATO is made in Italy. Makes lasagne, fettuccine & tagliolini (thin fettuccine).
Secured Payment
|
Free shipping over $100 (excludes bulky products)
View On Mobile Open your camera and Scan the QR code to view on your mobile.
The Marcato Atlas 150 Design Series is absolutely the most versatile manual pasta machine, it offers a complete system of optional interchangeable attachments allowing different types of pasta from spaghetti and angels hair to ravioli and lasagne.  The possibilities are endless!
This Design series pasta machine includes the main body with flat rollers for making the dough sheet and an easily removable double cutter.  The rollers on the Atlas machine can be easily adjusted to 9 different positions with a dial that regulates the thickness of your pasta dough.  It has an adjustable "By-The-Number" dial. The Atlas 150 comes with 1 block of cutters featuring narrow and wide, 1.5mm spaghetti and 6mm fettuccine, that can be interchanged with the optional attachments.
All Marcato machines and attachments are proudly manufactured in ITALY from high-quality materials.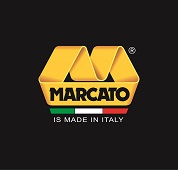 Features:
3 pasta shapes: lasagne, fettuccine (6mm) and tagliolini (1.5mm)
Adjusts to 10 dough sheet thicknesses: from 0.6mm to 4.8mm
The patented rollers are food-safe anodised aluminium, therefore no heavy metal residues like chrome or nickel, are released onto the dough.
Cleaning the machine is easier with removable polymeric resin-coated combs. Simply brush off dough/flour residue with a small pastry brush.
Due to the subtle rough surface of the rollers, the pasta will have a porous surface and therefore hold sauces better.
Additional accessories are available to make a wide variety of pasta shapes.
Can be motorised by adding the Pasta Drive
Comes with a clamp & rubber feet to secure the pasta machine to your work surface – the handle is steel and aluminium.
Supplied with comprehensive instructions and recipes.
5-year guarantee.
Do not wash, simply clean off with a pastry brush.
Optional extras:
These attachments are for the Atlas 150mm and the electric Marcato pasta machines. They give you the versatility of making a large variety of Italian pasta shapes.
Marcato Capellini d'Angelo – 1mm (angel hair)
Marcato Spaghetti – 2mm pasta (round spaghetti)
Marcato Trenette – 3mm pasta (narrow flat pasta)
Marcato Reginette – 12mm lasagne ricce (flat wavy edged)
Marcato Pappardelle – 50mm lasagne ricce (large flat length)
Marcato Linguine – 3mm pasta
A complete range of accessories in the matching black colour are also available in the Design Series.
Only logged in customers who have purchased this product may write a review.