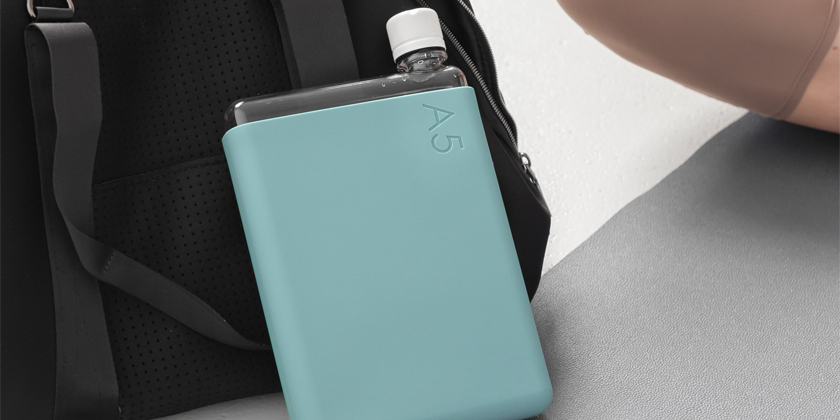 A bottle designed to always fit
The striking design and shape of the memobottles have won multiple design awards and are exclusively trademarked, so rest assured you have the authentic and original memobottle, which is crafted from the highest quality BPA, BPS-free plastic and backed by a 2-year manufacturing warranty.
Designed to fit.
You shouldn't have to think twice about bringing water. That's why memobottle reimagined the humble water bottle to always fit – into your bag and life. memobottle's convenient paper shaped design allows it to sit flat against laptops, books and anything else you might carry. Whether you're packing for work, play or travel, you'll find space you never knew existed.
Everyday, Everywhere Hydration
Born from a desire to reduce the impact of single-use bottles, memobottle's disruptive lightweight design makes it more convenient to carry your own water on the go. That's one less excuse to not carry a bottle, and one more reason to stay hydrated.
Minimalist Design, Maximum Impact
memobottle could be focused on winning design awards (been there, done that) but what they're really passionate about is making an impact. Together, the memobottle community has delivered over 10 million days of access to clean water through water.org and diverted over 80 million bottles from landfill. Now that's something worth bragging about!
Viewing 1–12 of 35 results
memobottle A5 750ml

$

64.99

memobottle A5 Black Vegan Sleeve

$

69.99

memobottle A5 Silicone Sleeve Black Ink

$

37.99

memobottle A5 Silicone Sleeve Mandarin

$

37.99

memobottle A5 Silicone Sleeve Midnight Blue

$

37.99

memobottle A5 Silicone Sleeve Pale Coral

$

37.99

memobottle A5 Silicone Sleeve Sea Mist

$

37.99

memobottle A5 Silicone Sleeve Wild Plum

$

37.99

memobottle A6 375ml

$

51.99

memobottle A6 Black Vegan Sleeve

$

54.99

memobottle A6 Silicone Sleeve Black Ink

$

31.99

memobottle A6 Silicone Sleeve Mandarin

$

31.99