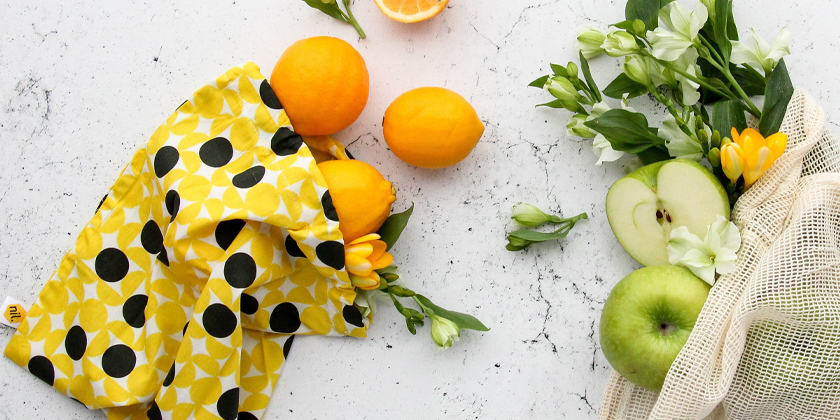 nil's beeswax and vegan makers are the threads that weave our amazing story.  These are mainly women who often find it difficult to obtain part-time work from home.  Working from home allows people to work within their own hours and there is no accessibility issue.  A concept that was prevalent prior to the Industrial Revolution.  Over the last 100 years, this type of work has almost become non-existent. But here at nil, we have reinvented this model to create our passionate collective of makers. We have over 20 women who each week receive a box from HQ to make our products in their homes. We then pick this work up and pack and ship all over the world. Our unique model began over 4 years ago and since then we have made over 500,000 beeswax wraps (it now includes knitted and sewn goods). In turn, this means we have saved over 500,000 units of plastic rubbish alone.
We work with many talented fabric designers to produce nature-inspired fabrics.  We live in a country that has the most amazing untouched nature in the world.  Our local fabric designers draw their inspiration from our flora and fauna.  Our designs are modern, stylish with a nod to our incredible environment.  We are inspired by nature and we give back to nature.  All our fabrics are 100% GOTS certified Fair Trade.
Each time you buy a nil there is a story and you will become part of our weaving.  Buy something good and do something good with nil. nil harm – nil waste!
Read our blog about Nil using organic cotton vs conventional cotton
Viewing all 12 results
nil Compostable and Biodegradable Bin Liners

$

8.50

nil Organic Fire Starters Pack of 24

$

24.99

nil Organic Produce Bags 3 Pack Bird

$

29.99

nil Organic Produce Bags 3 Pack Dot

$

29.99

nil Organic Produce Bags 3 Pack Flower

$

29.99

nil Organic Reusable Bread Bag Long Red Pohutakawa

$

29.99

nil Organic Reusable Bread Bag Short Red Pohutakawa

$

29.99

nil Organic Reusable Bread Bag Short Yellow Kowhai

$

29.99

nil Travel Bamboo Cutlery Set Black

$

26.99

nil Vegan Organic Food Wraps Bird

$

31.99

nil Vegan Organic Food Wraps Dot

$

31.99

nil Vegan Organic Food Wraps Flower

$

31.99