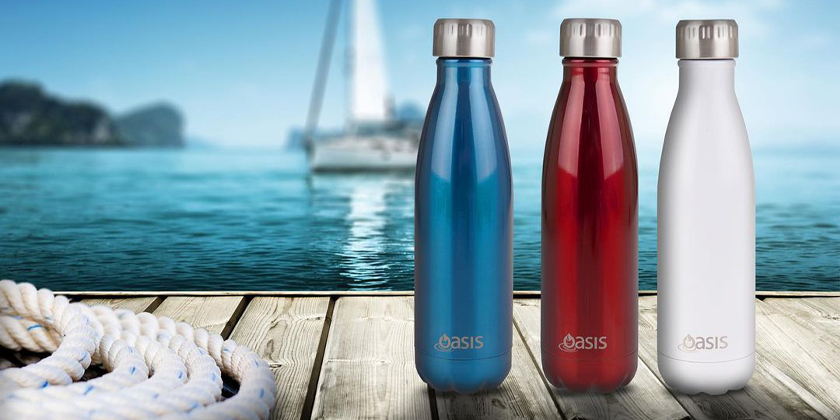 Oasis Drink Bottles, Mugs & Accessories
Causing Serious Drink Bottle Envy.
Oasis drink bottles are, quite simply, water bottle perfection. Oasis stainless steel water bottles are, of course, BPA-free. What's more, their double-walled vacuum insulated body reduces condensation and keeps your drinks cool up to 24 hours or hot up to 12 hours, making them ideal all year round.  
While many other drink bottles are spill-proof, an Oasis insulated bottle won't leak – period. The tight-fitting twist cap features a silicone seal that prevents any accidents, making your Oasis drink bottle entirely handbag-/schoolbag-safe. 
If you prefer a sports top for the gym or for kids, simply buy the pour-through stopper. It's changeable with the normal lid, BPA-free and still leakproof. We also stock carabiner clips and insulated sleeves to go with your Oasis stainless steel water bottle. 
Sleek Shape & Stunning Designs
Do you dread going into business meetings with a bulky water bottle that makes you look like you're on your way to a hiking trip? Oasis drink bottles seal the deal with regards to design. Their sleek shape looks sophisticated, and with many colours and prints to choose from, we have something for every taste. Their small diametre also means that an Oasis stainless steel water bottle easily fits into drinks pockets on school backpacks, picnic backpacks and lunch totes.  
Oasis Travel Mugs, Flasks & Lunchboxes
Apart from popular Oasis drink bottles and accessories, Chef's Complements stock Oasis flasks, mugs and lunchboxes. The travel mugs and flasks are double-walled just like our Oasis insulated bottles. When buying an Oasis travel cup, you can choose from stainless steel and BPA-free composite material in a range of colours. 
Viewing 1–12 of 76 results
Oasis Biodegradable Eco Cup (3 Sizes)

$

7.99 –

$

9.99

Oasis Borosilicate Glass Eco Cup (7 Variants)

$

31.99 –

$

39.99

Oasis Bottle Sleeve Geometric (2 Sizes)

$

10.99 –

$

13.99

Oasis Bottle Spare Cap (2 Sizes)

$

5.99

Oasis Collapsible Coffee Cup 350ml

$

21.99

Oasis Double Wall Eco Cup 300ml

$

10.99

Oasis Double Wall Eco Cup 400ml

$

12.99

Oasis Double Wall Insulated S/S Travel Cup 340ml (4 Colours)

$

29.99

Oasis Drink Bottle Collar with Carabiner Clip

$

2.99

Oasis Insulated Stainless Steel Drink Bottle Aqua (4 Sizes)

$

21.99 –

$

39.99

Oasis Insulated Stainless Steel Drink Bottle Blush (2 Sizes)

$

24.99 –

$

34.99

Oasis Insulated Stainless Steel Drink Bottle Boho Elephants (2 Sizes)

$

29.99 –

$

39.99