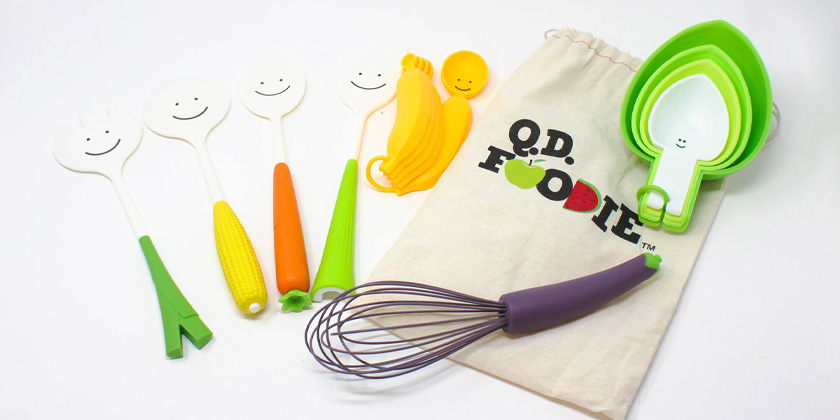 The Q.D. Foodie Story
A few years ago, future Q.D. Foodie creator, Marci Heit, started volunteering as a puppeteer for a show that focused on understanding, appreciating, and embracing all kinds of people. Marci is a professional voice over artist, so she had a great time voicing the big and colourful personalities of the show's characters. Quickly, she discovered that she loved being involved in a project that had such a powerful impact on people! After the performances, a rotation of speakers would talk with the children, and Marci enjoyed getting to know one of them very well. This presenter's name was Elda, an amazing 90-year-old woman who lost her sight at the age of 70. However, Elda never let that stop her from doing all of the things she always loved. Elda shared stories with Marci about how she loved to bake. She even brought Marci into her home, where her kitchen was marked with DIY braille to help her navigate when baking. This was truly inspiring to Marci because, despite Elda's challenges, she always used her ingenuity and positive outlook to reach her goals and achieve her dreams.
In addition to voice acting, Marci owns and runs an animation production company called "It's Real Entertainment." Elda's real life experience inspired Marci to create a character named Quinn Daisy (Q.D.), a young girl who is blind and loves to make things with food in a watermelon shaped treehouse with her friends. When Marci designed the kitchen tool props for Q.D. and her friends to use, she wanted them in her own kitchen and knew that others would, too. And the journey began!
Who says you can't play with food?
Cooking is an essential life skill, so whether there's a newbie in the kitchen or a seasoned cook, Q.D. Foodie Kitchen Tools promote playfulness, creativity and independence. Appealing colours and easy grip, sensory-friendly handles engage kids and grown-ups alike, making food more fun for everyone.
Q.D. Foodie Kitchen Tools are designed to engage kids in food prep and make food (even) more fun. Kids who are involved in making their own food are more likely to make healthy choices and be adventurous with new foods. Q.D. Foodie helps to create these and other positive experiences in the kitchen, with vibrant and lifelike colours, sensory-friendly handles, braille on the measuring pieces and more.
So what's in the bag?
Carrot Mixing Spoon – 28cm x 5.7cm
Whenever you can mix it up with a carrot spoon, you'll get a smile! This carrot is made of nylon and has an easy-grip handle.
Celery Spatula – 28cm x 6.35cm
A grippable handle and a nylon spatula make this unique celery stalk the perfect combination to turn and flip food smoothly.
Corn Salad Server – 28cm x 7.6cm
Everyone will want more salad, with this corn salad serving spoon around! Go ahead and eat it up! Nylon with grippable handles.
Scallion Salad Server – 28cm x 7.6cm
Everyone will want more salad, with this scallion salad serving fork around! Go ahead and eat it up! Nylon with grippable handles.
Artichoke Measuring Cups – 19cm x 11.4cm
With these four adorable textured nylon cups, you'll want to measure food that doesn't even need to be measured! Imperial, metric, and braille unit notations.
Banana Measuring Spoons – 16.5cm x 4.4cm
These really cool measuring spoons are more fun than a barrel of monkeys! Kids and adults can get perfect measurements with ease. This set of five has imperial, metric, and braille unit notations and is made of sturdy nylon.
Eggplant Whisk – 25.4cm x 6.35cm
This seven tine balloon whisk is functional and awesome to show off! You'll easily get volunteers to whip up something amazing! Grippable handle with a heat resistant stainless steel whisk.
Specs & the itty bitties
Cleaning: Dishwasher Safe
Materials: Nylon, TPE
Smiles: The tools' smiles can be removed, if desired, by treating them with an edible oil for one hour and then washing them clean.