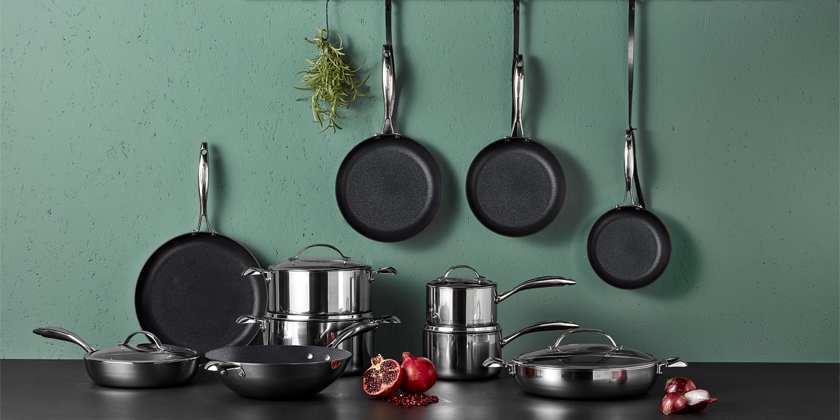 With its sleek, polished surfaces, the HaptIQ series is an exclusive and elegant companion to the stylish kitchen and a brilliant example of Danish design.
HaptIQ is Scanpan's premium cookware range and is made of a 5-ply clad-aluminium construction with a 100% recycled aluminium core. The layers of stainless steel provide durability and induction capability while the aluminium layers provide even heat distribution, creating optimum cooking results.
HaptIQ is handmade at Scanpan's factory in Denmark where traditional craftsmanship is combined with the latest production technology. Scanpan is one of the world's leading manufacturers for non-stick products. For over 60 years the company has produced Danish cookware of the highest quality and durability.
Their old coating Ceramic Titanium Non-Stick was world-leading and a Scanpan exclusive coating but they have one bettered it with the new SCANPAN STRATANIUM.
With the introduction of this new coating, Scanpan once again breaks the boundaries of what a non-stick surface can do, developing a micro-textured surface coating that combines non-stick properties, wear resistance and unique frying properties in one. This allows exceptional searing, food release for easy serving and clean up.
This coating provides the home chef with an almost indestructible non-stick commercial-grade surface combined with the luxury and durability of the mirror-polished stainless steel exterior.
A range truly suitable for cooks just starting out or experienced chefs upgrading their existing collection.
Read up on this world-leading and Scanpan exclusive coating HERE and find out how beneficial it can be in your kitchen.
Why Buy HaptIQ?
Designed and made in Denmark
Featuring the new SCANPAN STRATANIUM+ Non-Stick Coating 
Completely PFOA and PFOS-free
Dishwasher Safe
Metal utensil safe
Suitable for all HOB types including Induction
Oven safe to 250°C
Stay cooler for longer, gently curved ergonomic handles are securely riveted
Healthier cooking with oil and fat-free frying
Food release and durability improved by more than 30% on an already world-leading non-stick surface
Remarkably easy to clean
10 Year Warranty
Viewing all 7 results
Scanpan HaptIQ Chef Pan 32cm / 4.8L

$

699.00

Scanpan HaptIQ Deep Sauté Pan with Glass Lid 26cm / 3.7L

$

669.00

Scanpan HaptIQ Dutch Oven (2 Sizes)

$

649.00 –

$

699.00

Scanpan HaptIQ Frypan (5 Sizes)

$

329.00 –

$

499.00

Scanpan HaptIQ Non-Stick Wok 32cm

$

629.00

Scanpan HaptIQ Saucepan with Glass Lid (3 Sizes)

$

399.00 –

$

539.00

Scanpan HaptIQ Sauté Pan with Glass Lid (2 Sizes)

$

629.00 –

$

699.00