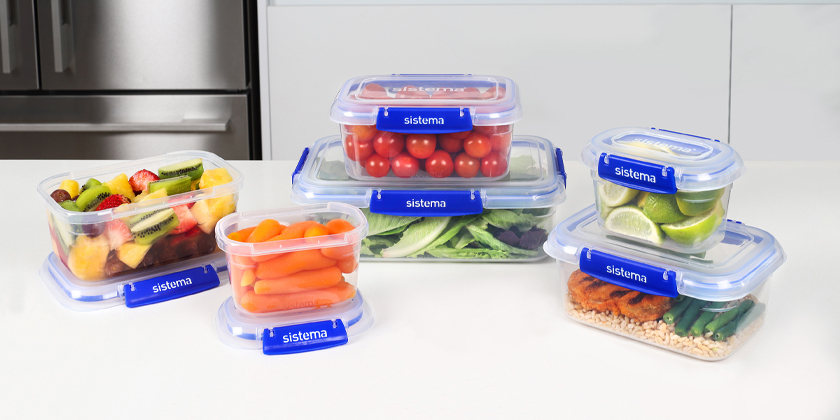 Sistema Plastic Food Storage Containers and more
We all love a good New Zealand success story and Sistema Plastics is most certainly that!
Sistema KLIP IT and BAKE IT airtight food storage containers have taken the world by storm. Millions of customers in would you believe a total of 82 countries are using Sistema Plastics to make their life a little easier. From lunch boxes to drink bottles, microwave mugs to kitchen storage boxes everywhere Sistema® containers are used people find a purpose that suits their lifestyle.
Sistema® was built on one man's dream in his garage in small-town New Zealand. That dream has now grown to include a team that spans the world. The vision to manufacture a beautifully designed, well-made container in New Zealand and ship it to customers around the world has finally been realised.
We are proud to stock a fully comprehensive range of Sistema in our Kitchenware store in Taupo and offer this range online too.
Viewing 1–12 of 108 results
Sistema Accents Large Ice Cube Tray (4 Colours)

$

8.99

Sistema Accents Medium Ice Cube Tray (4 Colours)

$

5.99

Sistema Bake It 9 Piece Pack

$

46.99

Sistema Bake It Bakery Box 1.56L

$

10.99

Sistema Bake It Bakery Box 2.4L

$

12.99

Sistema Bake It Bakery Box 3.25L

$

14.99

Sistema Bake It Bakery Box 685ml

$

6.50

Sistema Bake It Bakery Box Split 630ml

$

6.99

Sistema Bake It Cake Box 8.8L

$

22.99

Sistema Brilliance Large Rectangle 2L

$

15.99

Sistema Brilliance Medium Rectangle 920ml

$

11.99

Sistema Brilliance Small Rectangle 380ml

$

6.99